Level Sensors / Detectors / Transducers
Ultrasonic Transmitter/Sensor offers intelligent level measurement.
Press Release Summary: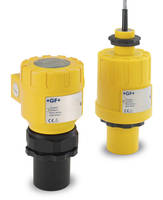 Together, 2260 Ultrasonic Level Transmitter and 2270 Ultrasonic Level Sensor provide measurement and detection for nearly all liquids in vessels ranging from closed tank systems to open basins. Integrated intelligence enables devices to differentiate between substances, such as condensation or agitation, and true, actual level of medium avoids incorrect measurements. Accuracy over measurement range is ± 0.05%. Sensors come in PP, PVDF, and 4 and 6 m sizes with 1½ and 2 in. threads.
---
Original Press Release:

New Ultrasonic Sensing Instrumentation Offers Precise Level Measurement in Virtually Any Liquid



IRVINE, Calif. — GF Piping Systems has introduced a comprehensive new level sensing instrumentation product line that includes ultrasonic level transmitters, sensors, and a variety of switches. The new product line-up was developed in response to customer demand following the proven performance of the company's existing Submersible Hydrostatic Level Sensors and Transmitters.



Key highlights to the new line are the 2260 Ultrasonic Level Transmitter and the 2270 Ultrasonic Level Sensor.  Together, these devices provide reliable and maintenance-free measurement and detection for nearly all liquids and types of vessels - from closed tank systems to open basins - and are suitable for use in variety of water treatment, chemical processing, and ultrapure water applications.



"The new ultrasonic products offer more intelligence than other level measurement products on the market," says Dave Vollaire, Instrumentation Product Manager for GF Piping Systems.  "They can differentiate between substances like condensation or agitation and the true, actual level of the medium, thereby avoiding incorrect measurements."



The new Ultrasonic Level Transmitter and Sensor, both display, blind and Atex approved, operate on the measurement principle of ultrasonic time of flight and feature ± 0.05% accuracies of the measurement range.  Outstanding design features include use of a narrow beam that allows safe installation in limited space tanks and near static objects. A large display provides for easy level and volume readings and the Quick-Set menu incorporates pre-programmed tank shapes for setting up volume calculations in minutes to make instrument start-up time fast and easy.  The device can recognize foreign matters and disregard them to ensure reliable level measurement, even in tanks where there are heavy vapors, condensation or turbulence.  Sensors are available in PP, PVDF, and in 4m and 6m sizes with 1-1/2" and 2" threads.



Completing the new product line are a variety point level sensors that meet many application requirements as well as CE and RoHS standards.  These include:



2284 Ultrasonic Gap Switch

This rugged, chemical-resistant plastic sensor is designed for high or low level alarm for a variety of different tank applications as well as pump control.



2280 Tuning Forks

These heavy-duty stainless steel sensors feature a maintenance free vibrating principle capable of handling high temperatures for level detection of liquids or granular powdered solids and are available with an explosion-proof option. 



2281 Multipoint (4 position) Conductive Switch

Based on the conductivity principle, the 2281 Switch is designed for easy on site probe length configuration.  With its two to four individual switching points integrated into one sensor, installation is fast and easy.



2285 Float Switch 

The hermetically molded 2285 Float Switch features a double chambered float that ensures waterproof protection.  The 2285 is suitable for level switching of various liquids as well as sewage in shafts, tanks and basins or cisterns.



2282 Guided Float Switches

These traditional switches feature compact design and excellent chemical compatibility for economical control of liquids in tanks.



"The new mid-range level sensor products really round out the instrumentation line and allow us to provide solutions in applications where we were previously limited," adds Vollaire.  By introducing ultrasonic level sensing capabilities into our offering, we can now truly be a one source solution for customers' liquid control systems."



2260/2270 Ultrasonic Level Transmitter/Sensor from GF Piping Systems



About GF Piping Systems

GF Piping Systems supplies a full range of plastic pipe, fittings, valves, actuators, rotameters, fusion machines, secondary containment, heat exchangers, custom products, and sensors and instrumentation for industrial process control.  For further information, please contact:  GF Piping Systems, 9271 Jeronimo, Irvine, CA 92618-1904 USA; Toll Free (800) 854-4090, Fax (714) 731-6923; e-mail: us.ps@georgfischer.com; Web: www.gfps.com



All trademarks are the property of their respective companies

Related