Sensors / Detectors / Transducers
Ultrasonic Sensor has 6 m detection range, slim sonic cone.
Press Release Summary: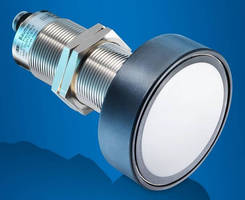 Series 70 includes 2 distance-measuring sensors (UNAM 70) with either voltage or current output and 2 dual digital output proximity sensors (UZAM 70) with either NPN or PNP switching outputs that can be set to detect targets at two different distances with either NO or NC outputs. Integrated temperature compensation allows -25 to +60°C fluctuations, and design with IP67 protection and nickel-plated brass housing is resistant to dust, dirt, and contaminants.
---
Original Press Release:

New Ultrasonic Sensor Family Provides Long-Range Measurement and Proximity Sensing for Harsh Environments



Baumer's New Series 70 Ultrasonic Sensors Provide Sensing Range up to 6 Meters



Southington, Conn. -- The new Series 70 ultrasonic sensor family from Baumer adds new features to proven technology to solve very demanding applications in the Food & Beverage, Logistics, Packaging, and Printing & Graphics markets. With a 6-meter detection range, ultra-slim sonic cone only more than 50% smaller than industry standards, and integrated temperature compensation allowing -25° to +60°C fluctuations, these ultrasonic sensors provide precise and reliable results even under the most adverse conditions. The Series 70 family adds on four product options: two distance-measuring sensors (UNAM 70) with either voltage or current output and two dual digital output proximity sensors (UZAM 70) with two either NPN or PNP switching outputs which can be set to detect targets at two different distances with either normally-open or normally-closed outputs.



The Series 70 family provides solutions for applications typically difficult to solve, such as fill-level monitoring for liquids or bulk material either outdoors or in silos, paper roll diameter as well as stack height and position measurement, and reservoir level monitoring for pump control applications. Insusceptible to color variations, the sensors reliably detect even glossy or highly transparent objects. Extremely resistant to dust, dirt and contaminants, the sensors provide continuous resolution and repeatability throughout the entire detection range. Integrated temperature compensation ensures utmost precision even in measurements at fluctuating temperatures such as occur from the start of a production day to the afternoon, when operating temperatures can soar.



Another sensor hallmark is the extremely slender sonic cone. Focused sonic energy guarantees an extraordinarily high signal quality even under harsh ambient conditions. The nickel-plated brass housing with IP67 protection ensures the new Baumer ultrasonic sensors will maintain their excellence even under other demanding conditions such as in dirty, wet environments. The sensing distance of up to 6 meters, which is teachable either by button or by wire, enables an application-specific sensor adaptation, even varying across applications in a single plant. Moreover, the pushbutton teach procedure gives the user the ability to set the analog output  slope either to rising or falling as the application requires.



For more information, contact Baumer Ltd. at 800-937-9336 or via email at sales.us@baumer.com.



The Baumer Group is an international leading manufacturer and developer of sensors, encoders, measuring instruments and components for automated image-processing. Baumer combines innovative technology and customer-oriented service into intelligent solutions for factory and process automation and offers a uniquely wide range of related products and technologies. With about 2,500 employees and 36 subsidiaries and in 18 countries, the family-owned company is always close to the customer. Industrial clients in many sectors gain vital advantages and measurable added value from the worldwide consistency of Baumer's high quality standards and its considerable innovative potential. For further information, visit www.baumer.com on the internet.



Press Contact:

Jeremy Jones

MarCom Support

Phone +1 (860) 620 63 75

Fax +1 (860) 628 62 80

jjones@baumer.com

www.baumer.com