Ultrasonic Sealing Technology eliminates waste and heat.
Press Release Summary: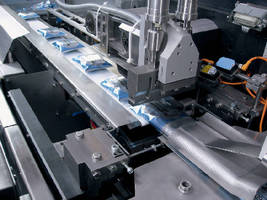 Offering online control of sealing parameters, ultrasonic sealing technology suits applications that involve horizontal packaging of solid products in pillow packs. Narrowness of seals at longitudinal and transverse seams minimizes packaging material requirements, while thickness of material itself minimizes energy requirements. With integrated process monitoring system and non-heated sealing heads, solution will not cause any product quality deterioration during packaging process.
---
Original Press Release:

Gentle Product Sealing Technology from Sigpack Systems



Improvement of machine efficiency through Ultrasonic sealing

No product waste through overheating during downtime
Lower maintenance effort due to abolition of sealing jaws
Improved process security through online control of sealing parameters

The new ultrasonic sealing technology from Sigpack Systems, a Bosch Packaging Technology company, is a highly cost-effective and efficient solution for the horizontal packaging of solid products in pillow packs. The new sealing technology means that the seals at the longitudinal and transverse seams are narrower, so less packaging material is required. Additionally, compared to conventional heat-sealing, the material itself can be of a lower thickness so energy costs are reduced. The agglutination of hot sealing jaws with foil leftovers causes a high maintenance effort associated with machine downtime. Ultrasonic sealing eliminates this challenge with sound-based sealing that removes heat from the sealing process. Overall equipment effectiveness (OEE) is increased significantly by the integrated process monitoring system and the non-heated sealing heads.

The quality of the hermetically sealed joints protects moisture- and oxygen-sensitive products. There is no deterioration of product quality during the packaging process. Unlike heat-sealing, where heat is applied to the film material from the outside, in the ultrasonic sealing process the energy and heat required are generated from the inside outwards. Heating of the sealing jaws is eliminated, so no unnecessary radiant heat is generated. The result is a marked improvement in energy efficiency. A very positive side-effect is the improved hot-tack performance of the pillow packs, because the temperature of the film material immediately after sealing is that at which the sealed joints have maximum strength. As a result, the securely-packaged products can move on to the downstream processes on the packaging line more quickly.

The wide range of suitable film materials means that ultrasonic sealing is ideal for a very broad spectrum of applications.

"Ultrasonic technology provides a very precise, non-harsh and above all hermetically leakproof seal," says Andreas Graf, Head of System Integration at Sigpack Systems. "The process means that the seams can be significantly narrower than in conventional heat-sealing, thus allowing the use of less complex film composites. These two factors provide our customers cost savings which, combined with the improvement in process reliability, highlights the strategic importance of this new sealing technology."

About Bosch Packaging Technology

Bosch Packaging Technology is based in Waiblingen and is the leading provider of holistic solutions in packaging and process technology. The Packaging Technology division operates in 15 countries developing, manufacturing and selling modules and systems for pharmaceuticals, confectionery and cosmetics, as well as the food and non-food industries. Our 4,650 employees produced a turnover of around 700 million euros in 2008. For more information, please visit www.boschpackaging.com.

Reader contact:
Andreas Graf
Head of System Integration
Tel: +41 52 674 6695
andreas.graf1@bosch.com

The Bosch Group is a leading global supplier of technology and services.According to preliminary figures, some 282,000 associates generated sales of roughly 45 billion euros in the areas of automotive and industrial technology, consumer goods, and building technology in fiscal 2008.The Bosch Group comprises Robert Bosch GmbH and its more than 300 subsidiaries and regional companies in over 60 countries. If its sales and service partners are included, then Bosch is represented in roughly 150 countries.This worldwide development, manufacturing, and sales network is the foundation for further growth.Each year, Bosch spends more than 3 billion euros for research and development, and applies for over 3,000 patents worldwide.With all its products and services, Bosch enhances the quality of life by providing solutions which are both innovative and beneficial.

The company was set up in Stuttgart in 1886 by Robert Bosch (1861-1942) as "Workshop for Precision Mechanics and Electrical Engineering."The special ownership structure of Robert Bosch GmbH guarantees the entrepreneurial freedom of the Bosch Group,making it possible for the company to plan over the long term and to undertake significant up-front investments in the safeguarding of its future.Ninety-two percent of the share capital of Robert Bosch GmbH is held by Robert Bosch Stiftung GmbH, a charitable foundation.The majority of voting rights are held by Robert Bosch Industrietreuhand KG, an industrial trust. The entrepreneurial ownership functions are carried out by the trust.The remaining shares are held by the Bosch family and by Robert Bosch GmbH.

Additional information can be accessed at www.bosch.com

Related