Ultrasonic Lead Soldering and Bus Bar Additions for Heaters and EMI Shielding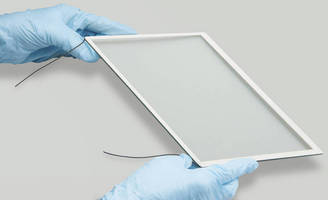 Abrisa Technologies is a vertically integrated manufacturer of heater elements and advanced display cover glass with EMI filtering. Value-add capabilities now include ultrasonic soldering of wire leads to screen printed and thin film deposited bus bars on index-matched indium tin oxide (IMITO) and anti-reflective (AR) coated glass.



Utilizing ultrasonic soldering makes it possible to apply bus bars and lead wires in a single step, directly to the glass or ITO conductive surface, rather than using a more costly multi-step conventional etch and print process.



Abrisa Technologies' vertical integration of processes from glass fabrication, thin film PVD optical coating, through to bus bar/wire soldering helps to reduce the occurrence of material handling damage and reduce logistical costs all while delivering a complete, performance guaranteed turnkey display solution.



Abrisa Technologies specializes in both standard and custom optimized index-matched indium yin oxide (IMITO) coatings for EMI shielding and heaters with uniform electrical conductivity and high optical throughput, low reflectance requirements. Transmittance levels can be in excess of 98%. ITO and IMITO coatings from Abrisa Technologies are resistant to flaking, peeling, cracking, delaminating, and crazing and can be applied to a wide variety of commercial glass such as soda lime float, borosilicate and aluminosilicate glass as well as other technical substrates such as silicon and Corning Eagle XG® semi standard wafers, ceramic, and fused silica from 0.25 to 27 inches in size.



Ideal for military, aerospace, medical, information technology, and industrial markets these display elements can be integrated into products used in control panels, computer monitors, hand-held devices, aircraft cockpit controls, in-flight and vehicular entertainment screens, outdoor displays, GPS systems, and a host of medical monitoring and diagnostic devices.



Abrisa Technologies is a recognized global supplier of high quality, fabricated glass components, optical thin film coatings, and custom glass solutions for a wide variety of industries. From our US based Abrisa Industrial Glass fabrication facility in Santa Paula, CA and our ZCR Coatings for Optics division in Torrance, CA we serve diverse industries such as microelectronics and displays, semiconductor, military, automotive, aerospace, medical, biomedical and scientific R&D. We provide custom specialty flat glass and coating products for applications such as: flat panel display, touch and gesture recognition; visible to IR imaging and surveillance; entertainment, indoor and outdoor lighting; advanced instrumentation; and photonics.



More from Agricultural & Farming Products