Ultrasonic Inspection System examines joining technologies.
Press Release Summary: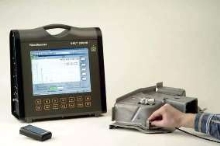 Portable, PC-based USLT 2000B is operated as conventional flaw detector, displaying A-scans as well as DAC and DGS curves. Up to 4 selectable measurement values, such as sound path, projection distance, and depth and echo amplitude can be shown in measurement line. Battery-operated unit is available with optional software to allow saving, managing, and evaluation of inspection results for planning, control, and documentation of inspection process.
---
Original Press Release:
USLT 2000B - Ultrasonic Inspection Notebook Is Re-packaged For Production Environment

Huerth, Germany, March 2005 - The widely popular USLT 2000 ultrasonic inspection notebook from GE Inspection Technologies has been completely repackaged to meet customer requirements for a portable, PC-based instrument, which is easy to use for operators who are not computer-literate. This new, battery-operated, USLT 2000B can be used with the optional range of software available for the USLT 2000 suite of instruments to provide flexible and comprehensive solutions to the inspection of a range of joining technologies throughout the automotive and aerospace industries.

Already an established technology in Europe and fast gaining acceptance world-wide, especially with the introduction of high strength steels, ultrasonic inspection of joints such as spot welds has many advantages over "hammer and chisel" type destructive testing methods and all of these advantages are incorporated in GE's USLT 2000B. Ultrasonic examination does not destroy or damage the component, so there is less scrap, while reliable and repeatable test results can be documented and recorded for future comparison and analysis.

The new, rugged design of the battery-operated USLT 2000B fits it ideally for portable operation in a production environment. It is easily set up by means of a user-friendly touch screen, while any of fourteen function keys can be configured to operate with the relevant application software so that they can be used to control selected functions independently of the touch screen. The function keys can also be operated by a remote control unit and, for extensive work, a mouse and/or keyboard can be connected to the instrument via a USB port.

The versatile PC-based instrument is operated as a conventional flaw detector and a variety of information can be displayed on the high resolution screen, including active A-scans and DAC and DGS curves. Up to four selectable measurement values, such as sound path (wall thickness), projection distance and depth and echo amplitude can be shown in the measurement line and indication is provided of the active function group.

The USLT 2000B is available with optional software to allow saving, managing and evaluation of inspection results and for planning, control and documentation of the inspection process. UltraLOG 3 is dedicated spot weld testing application software, which can be used to document both non-destructive and destructive examinations and features automatic evaluation assistance tools. It can be combined with the UDB Database Manager software, which contains a complete database system for the generation and management of inspection results. The instrument can also be connected to conventional office equipment by means of standard LAN, USB and VGA connectors.

All instruments within the USLT suite of products, from laboratory instruments to stationary systems, use the Windows XP function range, with linkage to all other Windows programs. They are also compatible with the wide range of GE Inspection Technologies probes, from dialog probes which contain an electronic chip to transfer probe data and ensure reliability, to special designs, such as snorkel probes, which can reach even concealed spot welds.

About GE Inspection Technologies

GE Inspection Technologies is a global leader in technology-driven inspection solutions that deliver customer productivity, quality and safety. The company designs, manufactures and services radiographic, ultrasonic and eddy current equipment to test materials without deforming or damaging them. Its products are used in a wide range of industries, including Aerospace, Power Generation, Oil & Gas and Automotive. The company has 11 application centers around the globe and offers a range of services including repair, calibration, training and upgrades. GE Inspection Technologies has 1,000 employees at more than 25 facilities in 25 countries worldwide. To learn more about GE Inspection Technologies visit www.GEInspectionTechnologies.com.

Release date: For immediate release

For pictures or more information please contact:

Caroline Akeroyd

Communications Manager

GE Inspection Technologies Ltd

Tel: +44 1727 795513

Mobile: +44 7746 231504

caroline.akeroyd@ae.ge.com
More from Electronic Components & Devices