Ultrasonic Guillotine Cutter features hygienic, open design.
Press Release Summary: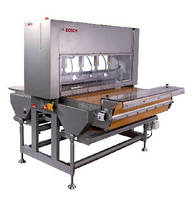 Using ultrasonic technology, Model WRQ 0400 US cuts product arriving in mass ropes into individual bars and applies minimum pressure while cutting to preserve product quality. Knife ensures that product does not stick to surface of blades, making system suitable for cutting sensitive, sticky, laminated, or layered products. Capable of producing 80 cuts/min, Model WRQ 0400 US has max cutting height of 30 mm and can be adjusted to handle cutting lengths from 20-200 mm.
---
Original Press Release:

Bosch's New Ultrasonic Guillotine Cutter



Hygienic design allows easy access for cleaning

Easy retrofitting of existing machines

Quick and flexible production adjustments

Bosch Packaging Technology launches the new WRQ 0400 US ultrasonic cross-cutting guillotine device for bar production in October 2011. The device is particularly suitable for products that are difficult to cut such as bars, cakes and pet food. The WRQ 0400 US uses ultrasonic technology to cut product arriving in mass ropes into individual bars and applies minimum stress and pressure while cutting to preserve product quality. "Due to its high-speed micro vibration, the ultrasonic technology results in clean cuts with sharp edges and smooth surfaces for further quality benefits" explained Frank Jansen, Product Manager at Bosch Packaging Technology.

High product quality and easy cleaning

The ultrasonic-powered knife ensures that the product does not stick to the surface of the blades. Thus, the system is ideal for difficult cutting applications such as sensitive, sticky, laminated or layered products. The machine's hygienic, open design allows easy access to all parts with product contact. Good accessibility enables quick cleaning after production as well as easy inspection before the start of production. This feature produces aesthetically pleasing products and also results in reduced cleaning times and minimal product waste.

Easy retrofitting of existing machines

With its universal design, existing WRQ guillotine machines can be easily retrofitted with the ultrasonic blade, capable of producing 80 cuts per minute. When equipped with a standard knife, performance is increased to up to 180 cuts per minute.

Flexible adjustments for various production conditions

On WRQ cutting machines, the speeds of the independent infeed and discharge conveyor belt can be infinitely adjusted. Thus, any desired gap between the product rows for packaging is easily achieved. Pneumatic belt tracking and tensioning ensure good performance and a long lifecycle.

Flexibility is achieved with two independent and linear servo axes controlling the knife movements, for precise rectangular cuts at any speed. The controls allow for rapid set-up and quick changeover to handle various bar lengths. The ultrasonic guillotine can be easily adjusted to handle cutting lengths in a standard range from 20 to 200 millimeters. The standard cutting height has a maximum of 30 millimeters and any working width within a standard range from 400 to 1,600 millimeters is possible. As an option, the control is able to provide customized cutting profiles such as matched marks.

"For sticky and layered bar products, traditional cutting challenges can be quickly overcome with ultrasonic technology," said Frank Jansen, Product Manager at Bosch Packaging Technology, and explained: "Our machine combines this innovative cutting technology with the benefits of flexibility, hygiene and ease-of-use."

Worldwide service support

Bosch Packaging Technology has a worldwide service network. Therefore, the ultrasonic guillotine is supported by Bosch's worldwide service team, allowing for local support and ease of spare parts ordering through the company's E-Portal platform.

Contact:

Frank, Jansen,

phone: +49 2162 248-452

Contact person for press inquiries:

Johanna, Bauer,

phone: +41 58 674-7416

The Bosch division Packaging Technology, based in Waiblingen (Germany), is one of the leading suppliers in the field of packaging technology. In 17 countries worldwide it develops and produces complete systems in packaging and process technology for the pharmaceutical, confectionery and food industries. Customized system solutions complete the service package. Bosch Packaging Technology's sales and service teams operate worldwide. More information at www.boschpackaging.com.

The Bosch Group is a leading global supplier of technology and services. In the areas of automotive and industrial technology, consumer goods, and building technology, some 285,000 associates generated sales of 47.3 billion euros in fiscal 2010. For 2011, the company forecasts sales of more than 50 billion euros and a headcount of a good 300,000 by the end of the year. The Bosch Group comprises Robert Bosch GmbH and its more than 350 subsidiaries and regional companies in over 60 countries. If its sales and service partners are included, then Bosch is represented in roughly 150 countries. This worldwide development, manufacturing, and sales network is the foundation for further growth. Bosch spent 3.8 billion euros for research and development in 2010, and applied for over 3,800 patents worldwide. With all its products and services, Bosch enhances the quality of life by providing solutions which are both innovative and beneficial.

Bosch is celebrating its 125th anniversary in 2011. The company was set up in Stuttgart in 1886 by Robert Bosch (1861-1942) as a "Workshop for Precision Mechanics and Electrical Engineering." The special ownership structure of Robert Bosch GmbH guarantees the entrepreneurial freedom of the Bosch Group, making it possible for the company to plan over the long term and to undertake significant up-front investments in the safeguarding of its future. Ninety-two percent of the share capital of Robert Bosch GmbH is held by Robert Bosch Stiftung GmbH, a charitable foundation. The majority of voting rights are held by Robert Bosch Industrietreuhand KG, an industrial trust. The entrepreneurial ownership functions are carried out by the trust. The remaining shares are held by the Bosch family and by Robert Bosch GmbH.

Additional information can be accessed at bosch.com, www.bosch-press.com, and www.125.bosch.com.

More from Sensors, Monitors & Transducers