Ultrasonic Flow Meter utilizes transit time measurement.
Press Release Summary: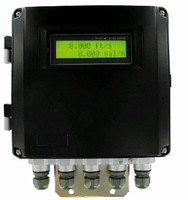 Paired with SX1 or SX2 clamp-on sensors, Series UXF1 Converter is part of fixed ultrasonic flow meter system designed to measure flow rates of relatively clean homogenous liquids. System features 32-bit microprocessor-based electronics and can be configured from front keyboard to particular applications. Suited for pipe diameters from 0.50-235 in., flow meter includes LCD display as well as multi-lingual display.
---
Original Press Release:

NEW! Series UXF1 Fixed Transit Time Ultrasonic Flow Meter



The NEW Series UXF1 Converter is part of a fixed ultrasonic flowmeter system based on the transit time measurement method for measuring flow rates of relatively clean homogeneous liquids. Systems are composed of a converter (Series UXF1) and a clamp-on sensor (See Dwyer Series SX1 and SX2 sensors). With its microprocessor-based electronics, this ultrasonic flowmeter can be easily configured from the front keyboard to particular applications. Applications include flow measurement of any fluid through which an ultrasonic signal may be transmitted, including those of unknown sound velocities. The Series UXF1 sensor is ideally suited for liquid flow measurement for pipe diameters from 0.50 to 235 inches.

These ultrasonic flowmeter systems are compact and lightweight, incorporating the latest electronics and high speed digital signal processing technologies (32 bit MPU). This results in high performance and easy operation. This unit features a large LCD display and function keys, as well as a multi-lingual display.

Complete details are available on our website @ http://www.dwyer-inst.com/htdocs/flow/SeriesUXF1Price.cfm