Ultrasonic Flaw Detector offers software for defect sizing.
Press Release Summary: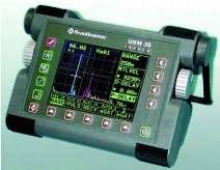 Suited for oil and gas sector, Model USM 35, with optional software, provides defect sizing in line with API 5UI recommendations. For operation, user finds crack, adjusts gain to 80% amplitude, presses USM freeze key, and moves probe to produce envelope curve. Software measures and remembers each amplitude peak and carries out time-of-flight calculations for each measurement to provide code-compliant sizing of flaw.
---
Original Press Release:

New USM 35 Flaw Detector Operating Software Makes Defect Sizing Easier


Huerth, Germany, February 2005 - Faster and easier defect sizing in line with API 5UI recommendations for oilfield tubulars are the instant benefits derived from GE Inspection Technologies' USM 35 using newly available software. As a result, the versatile ultrasonic flaw detector will now find even more extensive application throughout the oil and gas sector, to meet increasingly stringent requirements for faster, and safer, inspection procedures.

To date, defect sizing to API codes has tended to be a laborious procedure, involving manipulating probes to find the starts and ends of cracks, adjusting the instrument to measure Time of Flight and then using a calculator to determine the crack length. With the USM 35 incorporating the new optional software, the operator need only find the crack, adjust the gain to 80% amplitude, press the USM freeze key and then start to move the probe to produce an envelope curve. The application software will then measure and remember each amplitude peak and carry out the necessary time of flight calculations for each measurement to provide accurate and code-compliant sizing of the flaw.

This functionality has been made possible by maximizing the already-existent measurement capabilities of the standard USM 35 digital ultrasonic flaw detector, so that it can complement the new software. The USM 35 is already acknowledged for its ease of use in inspection tasks ranging from flaw detection to corrosion measurement. Two "spin & set" rotary knobs allow rapid setting of gain and function values, while direct access front panel keys are used to select the required dB step width, to freeze the displayed A-scan, to switch the A-scan to full screen size and to transfer live screen images to an external screen or video projector via a standard VGA output. Instructions are provided in a language of choice, including most common European languages.

The USM 35 features two independent color-coded gates, with a threshold of 10% to 80% of screen height, to allow two events to be identified and monitored simultaneously. Amplitude for each gate, sound path or sound path difference can be displayed prominently in the corner of the A-scan. The high contrast color display facility also enhances clarity when using angle beam probes in weld inspection. Because of the patented color-coded display of legs, the color of the signal changes with every reflection of the sound beam from the workpiece surface. In addition, the color display is of great benefit in highlighting registration curves in DAC and DGS evaluation, in filing reference scans or displaying echo dynamics, while the color can be changed to suit personal preference or ambient light conditions.

The portability of the compact USM 35 is supported by high power Lithium Ion batteries, which are fitted as standard. They allow at least ten hours of continuous use and can be recharged while still in the instrument. A versatile carrying handle can be used to position the instrument on virtually any surface.

With its new, optional application software, the USM 35 now adds defect sizing to API 5UI recommendations to its existing range of capabilities, which extend from simple echo amplitude comparison to complex DGS evaluation.

About GE Inspection Technologies
GE Inspection Technologies is a global leader in technology-driven inspection solutions that deliver customer productivity, quality and safety. The company designs, manufactures and services radiographic, ultrasonic and eddy current equipment to test materials without deforming or damaging them. Its products are used in a wide range of industries, including Aerospace, Power Generation, Oil & Gas and Automotive. The company has 11 application centers around the globe and offers a range of services including repair, calibration, training and upgrades. GE Inspection Technologies has 1,000 employees at more than 25 facilities in 25 countries worldwide. To learn more about GE Inspection Technologies visit www.GEInspectionTechnologies.com.

For pictures or more information please contact:
Caroline Akeroyd
Communications Manager
GE Inspection Technologies Ltd
Tel: +44 1727 795513
Mobile: +44 7746 231504
caroline.akeroyd@ae.ge.com

More from Machinery & Machining Tools