Ultrasonic Flaw Detector has sunlight-readable color LCD.
Press Release Summary: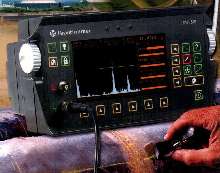 Portable model USN 58L, with transreflective LCD display, offers 60 Hz update rate and two rotary operational adjustment knobs. It also includes .040-480 in. range in steel and 15-2,000 pulse repetition frequency. Unit's 4 damping settings and 10 frequency selections from 250 kHz to 25 MHz enable optimum matching to probe characteristics. Offerings include 2 independent flaw gates, memory for 200 stored data sets, and single-shot measurement technique.
---
Original Press Release:

New Portable Ultrasonic Flaw Detector with Color LCD Display for Use in Direct Sunlight


Agfa NDT, Inc. introduces the new model USN 58L portable ultrasonic flaw detector with color transreflective LCD display, fast 60 Hz update rate, and optimum viewing in direct sunlight. The USN 58L replaces the popular USN 50L and USN 52L instruments, and upholds the USN Series reputation for being top performing, rugged, dependable field instruments.

Two user-friendly rotary knobs allow users to make fast operating adjustments very easily. The rotary knobs can be easily locked by pressing the lock key on the front panel. A .040 to 480 inch range in steel combined with a 15 to 2,000 PRF (pulse repetition frequency) covers a wide range of applications without incurring acoustic wrap around. Four damping settings and ten frequency selections from 250 Khz to 25 Mhz enable optimum matching to probe characteristics. Two independent flaw gates with real-time analog and TTL outputs provide maximum applications versatility.

The USN 58L is built-to-last like all USN instruments, and will withstand the rigors of harsh operating conditions. Weighing only 6 pounds and operating for up to 6 hours on six standard D-cell NiMH, Nicad, or alkaline batteries, the USN 58L provides maximum portability for field use. An AC power supply allows continuous bench-top use. Standard options are available to configure the instrument to meet practically any testing need. A VGA Output option enables a direct link to a large PC monitor or PC projector for large audience viewing or training purposes.

A 60 Hz update rate and single-shot measurement technique provide a fast, smooth screen presentation. The unique "Smartview" feature combined with "Persistence Freeze" ensures that the most relevant test information is not missed during fast manual or mechanical scanning. Reference waveforms can be displayed and compared to live A-scans for easy interpretation of test results. Trigonometric functions calculate and display surface distance, sound path, and depth to flaw, and leg that an angle beam inspection is occurring. The AWS weld rating calculation is also a standard feature.

An Auto CAL feature simplifies calibration of the instrument and 200 user named data sets are stored and recalled for quick, repeatable instrument setup. On-screen help text is only a key press away from the front panel. An on-board alphanumeric data logger provides flexible, convenient storage of data sets and thickness readings. Bi-directional communication of data sets is made easy with the UltraDOC 4 software program. Reports and A-scans can also be output directly to a variety of printers including the HP Deskjet series.

As new features and capabilities are added to the power of the USN 58L, the operating software can be easily upgraded from Krautkramer's website in about 25 minutes. The instruments do not need to be returned to Krautkramer and downtime is eliminated.

Contacts:
Doug Lutz Agfa NDT Inc 717-242-0327 ext. 308
Rosemary OLson Agfa NDT Inc. 717-242-0327 ext. 305

More from Electronic Components & Devices