Ultrasonic Flaw Detector features rugged, portable design.
Press Release Summary: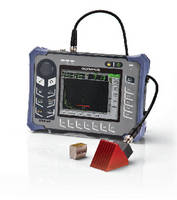 Available in 2 hardware configurations, EPOCH 600 can be adjusted with knob or navigation area on keypad. Key standard flaw detection features include 400 V PerfectSquare(TM) tunable square wave pulser, digital filtering, single shot measurements at up to 2,000 Hz PRF, dynamic DAC/TVG, onboard DGS/AVG, and Echo-to-Echo measurements with gate tracking. Built to withstand hazardous environments, battery-powered unit includes transflective VGA display and onboard memory for up to 50,000 waveform files.
---
Original Press Release:

Olympus Introduces the Epoch 600 Ultrasonic Flaw Detector



Olympus NDT, a world leader in nondestructive testing technologies, is pleased to introduce the EPOCH 600 digital ultrasonic flaw detector that combines industry-leading conventional ultrasonic flaw detection capabilities with the efficiency of a highly portable, intuitive instrument. Units will be available for delivery in early summer 2010.

The EPOCH 600 provides mid-level flaw detector performance and usability with the quality of Olympus NDT's most full-featured digital ultrasonic instruments. This optimal balance brings powerful conventional ultrasonic flaw detection features within reach of any level of inspector.

Available in two hardware configurations, the compact EPOCH 600 offers the choice to adjust parameters with a knob or with a navigation area on the keypad. The EPOCH 600 is designed to meet the requirements of EN12668-1 and allows a full range of standard and optional flaw detection features. Key standard flaw detection features include 400V PerfectSquareTM tunable square wave pulser, digital filtering for enhanced signal-to-noise ratio, single shot measurements at up to 2000 Hz PRF, dynamic DAC/TVG, onboard DGS/AVG, and Echo-to-Echo measurements with gate tracking. Optional application-specific software programs include AWS D1.1 and D1.5, Template Storage, API 5UE, and Waveform Averaging. The large, color transflective VGA display combined with the patent-pending digital High Dynamic Range receiver provides a stable, vivid A-scan representation in both low light and bright sunlight conditions.

Weighing only 1.68 kg (3.72 lb.), the EPOCH 600 with its horizontal, rugged case style is built to withstand the rigors of very harsh and hazardous inspection environments. The navigation pad configuration with sealed case is designed to meet IP67 requirements for very wet or dusty conditions while the knob configuration is designed to meet IP66 requirements. The instrument, with its rubber bumpers on all corners, is tested to high reliability standards for drops, shocks, vibration, and explosive atmosphere. And with a battery life between 12 and 13 hours, the EPOCH 600 is the perfect solution for remote and difficult-to-access inspection locations.

The EPOCH 600 allows several methods of storing, archiving, and reporting of inspection and calibration data. The instrument features onboard memory up to 50,000 individual waveform files (500MB), augmented by an additional 2 GBs of removable memory. It is also fully compatible with Olympus NDT's PC interface program, GageView(TM) Pro. With quick file setup functions and flexible data management, logging, and reporting inspection data is simple and efficient.

"The first things you will notice on the EPOCH 600 are the brilliant quality of the display and the instrument's fast reaction to user input. The horizontal layout is designed to optimize the A-scan size on the display, but the EPOCH 600 still maintains direct-access keys for all critical parameters commonly used during inspections, making this an extremely easy instrument to learn and use" says Coleman Flanagan, Manager of Portable Ultrasonic Flaw Detectors at Olympus NDT.

About Olympus

Olympus is a world-leading manufacturer of innovative nondestructive testing instruments that are used in industrial and research applications ranging from aerospace, power generation, petrochemical, civil infrastructure and automotive to consumer products. Leading edge testing technologies include ultrasound, ultrasound phased array, eddy current, and eddy current array. Its products include flaw detectors, thickness gages, in-line systems, automated systems, industrial scanners, pulser-receivers, probes, transducers, and various accessories. Olympus is also a distributor of remote visual inspection instruments and high speed video cameras in the Americas. Olympus is based in Waltham, Massachusetts, USA, and has sales and service centers in all principal industrial locations worldwide.


More from Controls & Controllers