Ultrasonic Data Collection System offers acuracy of ±0.0001.
Press Release Summary: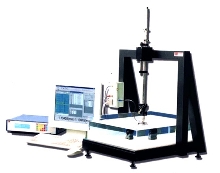 Thickness Gage Module (TGM) suits applications that require sub-micron resolution in thickness measurements or picosecond resolution in time-of-flight measurements. Benchtop system offers ultrasonic instrumentation and ScanView Plus data acquisition and imaging software. It utilizes receiver frequencies between 50 kHz and 400 MHz, 32 gates per channel, and unlimited ultrasonic options. System measures polymer coatings or plastic barrier layers as thin as 0.0005 in.
---
Original Press Release:

Panametrics Introduces a High-Precision Thickness Gaging Module(TGM)


Ultrasonic system provides sub-micron resolution in thickness measurements and picosecond resolution in time-of-flight measurements

Waltham, MA - This High Precision Thickness Gage Module (TGM) is a unique ultrasonic data collection system designed for demanding applications that require sub-micron resolution in thickness measurements or picosecond resolution in time-of-flight measurements. This high performance benchtop system offers unprecedented accuracies utilizing superior ultrasonic instrumentation and Panametrics powerful ScanView Plus data acquisition and imaging software. The resolution and accuracy of the TGM is significantly greater than that found in conventional portable thickness gages.

By utilizing receiver frequencies as high as 400MHz and as low as 50kHz, 32 gates per channel, and unlimited ultrasonic options, the TGM is a very versatile system capable of resolving a wide variety of ultrasonically challenging applications. The system is capable of measuring polymer coatings or plastic barrier layers as thin as 0.0005 inch (0.012mm) at a calibrated accuracy of +/- 0.0001 inch (0.0025mm) or better. The system also offers extremely stable time-of-flight (TOF) measurements at picosecond resolution. The TGM Module is useful in material analysis applications such as tracking incremental changes in material sound velocity to quantify very small fluctuations in density or elasticity.

The sophisticated ScanView Plus software allows measurement data to be displayed in a tabular format, in a graphical matrix, or exported to standard spreadsheet packages.

Base System

The base TGM system includes a computer, digitizer card, customer specified pulser/receiver and ScanView Plus Software. The TGM system also includes an instrument setup menu, which easily allows users to reconfigure for multiple pulser/receivers. Every system is custom tailored to meet customers' requirements.

TGM FEATURES

- Measure polymer coatings or plastic barrier layers as thin as 0.0005 inch (0.012mm)

- Sub-micron thickness resolution

- Picosecond Time-of-Flight resolution

- Frequency inspection range from 50kHz to 400MHz

- Displays up to 32 measurements per channel for multilayer applications

- Easy export of measurements to standard spreadsheet packages

For additional press information please contact:
Meindert Anderson, Marketing Manager, NDT Division
800-225-8330; 781-899-2719 x1444
e-mail: andersonm@panametrics.com
www. panametrics.com

More information on the Thickness Gage Module (TGM) is also available on our website: http://panametrics.com/div_ndt/pages/products/scanning/tgm.shtml

More from Mechanical Components and Assemblies