Ultrasonic Cleaning Module enables wire/tape cleaning.
Press Release Summary: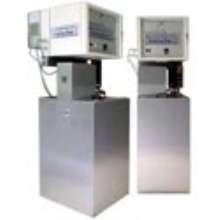 Series USCM System cleans ferrous, non-ferrous, copper, high/low-carbon steel, glass, and plastic. It removes oil, grease, stearate, soap, and dust and is capable of single-strand and multiple-strand cleaning. Each system includes SS liquid tank, air wipe for final drying, control cabinet for ultrasonic generators, and PLC. Choice of 5 different ultrasonic processors is offered, from 250-4000 W. System comes in sizes ranging from 600-3000 mm in length.
---
Original Press Release:

Ultra-Sonic Cleaning Modules for Wire / Tape Cleaning


The USCM series is HIelscher's latest development to supply wire & cable manufacturers with a cleaning system, that is:

o easy to setup, operate and maintain

o environmentally friendly

o cleaning and drying

o tailored to your specific needs

o adaptable and expandable

o long lasting and reliable

o serviced world-wide

o self-contained

o very compact and space-saving

o operating in-line with your production

o cost efficient

o cleaning ferrous and non-ferrous, copper, high/low carbon steel, glass, and plastic

o removing oil, grease, stearate, soap, and dust

o available for wire, cable, strip, tubes, profile and tape.

o capable of singe-strand or multiple strand cleaning

As the leading manufacturer of ultrasonic wire cleaning systems, Hielscher knows that wire cleaning demands are manifold, and that there is not a single system fitting all needs in the wire & cable market. The level of contamination varies as well as the cleanliness requirements. That is why, Hielscher will conduct cleaning trials with your specific wire. The trials are free of charge and without any obligation for you. When sending Hielscher your material to be cleaned, Hielscher will clean it at various system configurations and will return it for your evaluation. Based on the samples which you approve to meet your cleaning standards, Hielscher will offer you a system that - when installed - will clean your wire at your production speed to your satisfaction.

To tailor the system to your specific needs you can choose from five different ultrasonic processors that can be installed into the USCM systems.

o UIP250D (250 watts)

o UIP500D (500 watts)

o UIP1000D (1,000 watts)

o UIP2000D (2,000 watts)

o UIP4000D (4,000 watts)

The very efficient design of the Hielscher ultrasonic processor and the unique cleaning sonotrodes reduce the need for cleaning chemicals dramatically. Actually, many of Hielscher's customers run the cleaning systems with pure water, only. Of course, chemicals support the ultrasonic cleaning effect. Hence the optimal system configuration is a trade-off between ultrasonic power and allowable or desired chemicals usage.

The USCM systems are available in 5 different sizes to hold a different number of ultrasonic processors:

o USCM600 (length: approx. 600mm)

o USCM1200 (length: approx. 1,200mm)

o USCM2000 (length: approx. 2,000mm)

o USCM2500 (length: approx. 2,500mm)

o USCM3000 (length: approx. 3,000mm)

Each USCM system, is self-contained comprising of:

o a stainless steel liquid tank

- pump

- filter

- heater

- thermal insulation

o an air wipe for final drying

o a control cabinet for the ultrasonic generators

o a PLC that

- controls the ultrasound

- monitors the correct function

- reports alarms or need for maintenance

- can be hooked up to your central control

- automatically re-fills the tank and maintains its temperature

o ceramic or Teflon wire guides

o a stainless steel frame with sound-adsorbing material

The USCM systems are true plug-and-play units. The systems are delivered pre-adjusted and programmed. After connecting the system to the power, compressed air and water supply and drain for filling and draining the tank, the system is ready to be started.

More from Printing & Duplicating Equipment