Ultrasonic Cleaning Machines offer agitated immersion.
Press Release Summary: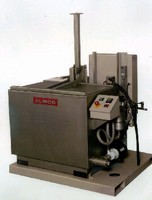 With agitated immersion feature, Models PW-125HSS-U and PW-200HSS-U move load of parts through 60 vertical 4 in. strokes/min while ultrasonic energy and surging action of cleaning fluid removes dirt from cracks and crevices. With inside tank dimensions of 22 x 15 x 14 in., compact tabletop Model KT-8500 provides 1,250 W of heating power but does not have agitated immersion. All include Vibra-Bar transducer modules, insulated double-wall cleaning tank, and adjustable thermostat.
---
Original Press Release:

New Ultrasonic Cleaning Machines



ULTRASONIC CLEANING MODELS WITH SUPERIOR FEATURES, CAPABILITIES INTRODUCED BY ALMCO

Two of Three Units Offer Agitation Immersion for Maximum Performance When Extreme Cleanliness Required

ALBERT LEA, Minnesota (February 25, 2008) - An easy-to-operate, high-frequency ultrasonic cleaning machine with an agitated immersion feature that provides even greater cleaning power has been introduced by ALMCO, Inc., a leading manufacturer of metal parts washers and dryers.

Two heavy-duty models of the new machine move a load of parts through 60 vertical 4-inch strokes per minute while ultrasonic energy and surging action of the cleaning fluid removes dirt from cracks and crevices with ultimate efficiency. A third, bench-top model offers ALMCO's ultrasonic technology but not the agitation feature.

All three units offer continuous operation, a cleaning tank with insulated double-wall construction, an adjustable thermostat for cleaning fluid temperature, and Vibra-Bar© transducer modules that are guaranteed not to crack, depolarize or detach from the radiating surface for 10 years.

Suited to a wide variety of applications, ALMCO's ultrasonic technology is leading-edge and environmentally safe. Sound waves introduced in the cleaning liquid by the transducers create compression and expansion that is so intense, the molecules pull apart to form microscopic bubbles that begin the cleaning process.

The most compact of the three models is the 1,000-watt, table-top KT-8500, without
agitated immersion. It has 12 transducer modules, 1,250 watts of heating power, inside tank dimensions of 22 inches long x 15 inches wide x 14 inches deep, and a working liquid depth of 11.5 inches for general cleaning.

The larger and more powerful ALMCO machines, with the agitation feature, are the Model PW-125HSS-U and PW-200HSS-U. They have additional transducer modules, more heating power, and inside tank dimensions and working liquid depths that accommodate greater numbers of larger parts.

Each of the new ALMCO machines is manufactured entirely in the USA and is backed by expert assistance in matching equipment with production needs, space availability and other considerations. The new units represent a further extension of the broad line of parts cleaning equipment and complete systems developed in recent years by the 65-year-old Minnesota company.

For further information about the ultrasonic process and the new machines, contact ALMCO, Inc., 507 West Front Street, Albert Lea, MN 56007, phone 1-800-521-2740, or visit the company on the Internet at www.almcoinc.com. In addition to its parts washer/dryer line, ALMCO is the world's largest manufacturer and an international marketer of standard and custom-designed equipment for metal parts deburring and finishing.

More from Software