Ultrasonic Bolt Meter features tension control module.
Press Release Summary: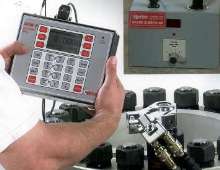 Model USM-2 offers precise measurement of elongation and load in threaded fasteners. Tension Control Module interrupts incoming air flow to power tool to stop torque or tension, automatically shutting off power-driven tools once bolt has achieved user-defined preload or elongation. Suited for metal fasteners from 1 in. to over 20 ft long, meter includes data recorder that stores bolt information and makes it available for download through RS 232 port.
---
Original Press Release:

Ultrasonic Bolt Meter Now Controls Tools; Chart Recorders


Santa Cruz, CA - Norbar USA Incorporated offers a new tension control module (TCM) for the Norbar USM-2, which automatically shuts off power-driven torque and tensioning tools once a bolt has achieved a user-defined preload or elongation. The TCM permits users of hydraulic torque wrenches, hydraulic tensioners, pneumatic torque multipliers, impact and impulse wrenches to automatically stop torque or tension by interrupting the incoming air flow to the power tool. Automation of this function eliminates operator errors leading to over-tensioning and related bolted joint component damage. Furthermore, hydraulic and pneumatic pressures can be set to maximum, which accelerates the bolt tightening process as compared with torque/pressure chart tools that experience significant decelerations as they approach final torque. The new TCM is especially suited for power plants, refineries, gas pipelines, petrochemical facilities, pulp & paper processing, mining and other maintenance applications.

Norbar's USM-2 Ultrasonic Bolt Meter offers precise measurement of elongation and load in threaded fasteners. It is a compact, lightweight, field-portable unit for real-time bolt measurement. The unit can be used on fasteners made of virtually any metal material, from 1 inch to over 20 feet long. A small transducer is placed against the head or stud end of the fastener, which introduces an ultrasonic sound wave that travels the length of the bolt. When the sound wave returns, the microprocessor converts the transit time to a length using constants based on the bolt material. Accuracy is as high as that with strain gages. Onboard flash memory stores up to five elongation and load measurements for each bolt to verify multiple pass tightening procedures. An integral data recorder stores bolt information in the USM-2 and makes it available for download through an RS 232 port. A backlit LCD displays both data and waveform. Sonic Bolt (Windows® 95/98/ME/NT compatible) utility software handles bolt data uploads, downloads, theoretical load to stretch calculations and provides Excel® formatted reports.

For further information, contact:
Norbar U.S.A. Incorporated
36400 Biltmore Place
Willoughby, OH 44094
Phone Toll Free: 877-566-7227
FAX: 440-953-9336
WEBSITE: www.norbar.info

More from Electrical Equipment & Systems