Ultraminiature VCXOs delivers optimal noise performance.
Press Release Summary: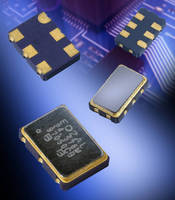 Available in operating ranges of -10 to +70°C and -40 to +85°C and frequencies from 1.0–50 MHz, G326 series uses fundamental mode crystals for optimal phase-noise performance and feature integrated phase jitter of 200 fs typ. Output can be tuned 50–200 ppm up or down from nominal frequency by varying control voltage. Supplied in 6-pad, 3.2 x 2.5 x 1.0 mm, SMD package, VCXO comes in 1.8, 2.5, 3.3, or 5 Vdc supply voltage versions and offers CMOS (15 pF) or TTL (2 gates) output.
---
Original Press Release:

Saelig Introduces G326 Ultraminiature VCXO Oscillators With Superior Phase Noise Performance



Fairport, NY, USA:  Saelig Company, Inc. (www.saelig.com) has introduced a new series of ultra-miniature voltage-controlled crystal oscillators (VCXO) that use fundamental mode crystals for superior phase-noise performance. Available in frequencies from 1.0 to 50MHz, the new G326 series VCXOs feature integrated phase jitter of 200fs (typical) and suit a wide range of timing applications, such as Phase Lock Loops (PLL), SONET, ATM, set-top boxes, MPEG, audio-video modulation, video game consoles and HDTV, ONET, 10GbE, Fiber Channel, wireless repeaters, transponders, FPGAs, data acquisition, etc.



Unlike standard clock oscillators that have a fixed output frequency, the output of G326 VCXOs can be tuned 50 to 200ppm up or down from the nominal frequency by varying a control voltage accessed via a pad on the component. This control voltage operates on a varactor - a voltage variable capacitance tuning diode. So G326 VCXOs are ideal for systems that need to be able to dynamically alter the system clock frequency.



Housed in a low mass, ultra-miniature 6-pad SMD package measuring 3.2 x 2.5 x 1.0mm, the G326 series VCXOs are available in 1.8, 2.5, 3.3 or 5V DC supply voltage versions and offer CMOS (15pF) or TTL (two gates) output.  Additional specifications include rise/fall times of 6ns maximum, duty cycle of 50% ±10% (±5% available to order), start-up time within 10ms, current consumption of 10 to 45mA dependent on frequency, and linearity of 6% typical, 10% maximum.



Available in both commercial (-10 to +70degC) and industrial (-40 to +85degC) operating temperature ranges, the new G326 series of VCXOs is made by European frequency product specialist Euroquartz, an AS9100 registered, independent UK-based manufacturer and supplier of quartz crystals, oscillators, filters and frequency-related products.  The G326 series oscillators are available now from Euroquartz' USA distributor Saelig Company. Inc.



More Information about Euroquartz



StumbleUpon Toolbar   Bookmark this on Delicious



More from Computer Hardware & Peripherals