UltraFlex Using Induction to Solder Stainless Steel Wire Frame to a Thin Coaxial Wire in 0.5 Seconds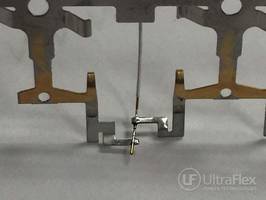 [Aug 3rd, 2018] UltraFlex Power Technologies has recently demonstrated yet another successful application of Induction heating for soldering purposes.
In this demo, a small coaxial cable 0.012″(0.32mm) thick had to be soldered first to a 0.006″ (0.16mm) thick, 0.57″x0.55″(14.5 x 14mm) stainless-steel wire frame, then to a 0.006″(0.16mm) thick, 0.07″(2mm) wide stainless steel strip using solder paste.
In each soldering case, it took 0.5 seconds to complete the soldering process. The target soldering temperature of 482°F (250°C) was achieved using power of 2.43 kW supplied by UltraFlex proprietary Induction Heating equipment from the High Frequency UltraHeat SB series. The High Frequency induction heating systems are capable of delivering full power in the 700 kHz – 1.2 MHz range and are perfect for soldering and brazing small components and parts such as circuit board connectors, RF Connectors, and cable end connectors.
Since no flame is involved in the induction heating process, the demonstrations were done in no special environment, at complete safety for everyone involved in them. Following the tests, UltraFlex engineers concluded that achieving cleaner joints would require fixturing and a method to apply the solder paste evenly and accurately. For manufacturing purposes, it would be possible to solder multiple joints at a time with an extended custom induction coil and correct fixturing.
Find out more at:
Contact us at:
+1.631.467.6814
uptnews@ultraflexpower.com
About UltraFlex Power Technologies:
UltraFlex Power Technologies (ultraflexpower.com) offers the most advanced and innovative digitally controlled induction heaters in the industry. Its compact modular and flexible systems are suitable for a wide variety of induction heating, casting and melting applications.
Related