UltraFlex Using Induction Heaters for Nuclear Research Applications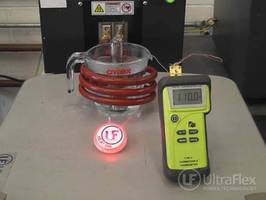 [Mar 1st, 2019] A recent induction heating demonstration by UltraFlex Power Technologies showed how induction heaters could be successfully used for nuclear research applications.
The objective of the demonstration, set up per request of a potential customer, was to heat spheres in a fluid flow of 1-5 gal/min to 96°C (200°F). The temperature reached had to be then maintained for an hour, for the sake of a nuclear research application.
In this application test, a steel susceptor - a stainless steel pipe of 1 inch (25.4 mm) outside diameter - had been used in place of the spheres. To reach the target temperature, an advanced, cost-effective 5-15 kW Induction Heater from UltraFlex UltraHeat W series had been used. The UltraHeat W induction heaters feature adaptive digital phase control providing very efficient operation in a wide frequency range. Power can be increased from 10 to 100% in 1% increments.
The heating had been accomplished using a 3-turn induction coil, with 4.8 inch (121.9 mm) outside diameter and 2 inch (50.8 mm) height. To measure the temperature of the heated water, a thermocouple was attached to the stainless steel pipe inside the water container. For this application, power of 6.7 kW had been supplied to the induction coil.
Using this induction heating setup, It took as little as 30 seconds to increase the water temperature from 27°C to the target temperature of 96°C. This temperature could be then easily maintained as long as needed, using the automated output regulation of the induction heater.
This test application proved the ease with which induction heaters may be used for nuclear research applications. Once the heating variables have been determined, the induction heater setup and operation can be fully automated, thus achieving a highly repeatable process with low variability, completely independent on the operator's skill. In addition, induction heaters reduces energy costs, converting as much as 90% of the energy consumed into heat in the part. Combined with reduced heating time, this cuts down both production expenses and your carbon footprint.
Find out more at:
Contact us at:
+1.631.467.6814
uptnews@ultraflexpower.com
About UltraFlex Power Technologies:
UltraFlex Power Technologies (ultraflexpower.com) offers the most advanced and innovative digitally controlled induction heaters in the industry. Its compact modular and flexible systems are suitable for a wide variety of induction heating, casting and melting applications.
Related