UltraFlex using a Handheld Induction Heater to Braze Steel Mesh Belts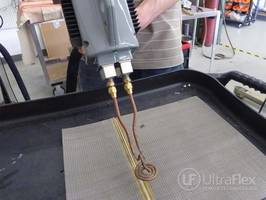 [Jan 7th, 2018] Induction solutions are already successfully replacing torch-based brazing in a variety of manufacturing applications - this has been the engineers' conclusion after recent UltraFlex demonstrations aimed at showing the induction-based brazing process for two magnetic steel mesh belts.
The demonstration had been carried out per request of a potential UltraFlex customer, currently using torch-based brazing for the operation, but looking to achieve repeatability and consistency for this brazing process.
The customer's scenario required brazing of two belts having magnetic steel mesh 1" wide x .08" thick. Braze alloy and flux were already embedded into the mesh and heat length was 12''.
The brazing was accomplished using an UBraze Handheld Brazing System. UBraze is mobile induction heating solution that can be used as a hand-held unit or can be integrated with a robotic arm for automated production lines. It allows the operator to move to the part and access hard-to-reach areas.
A compact and easily tuned to a variety of induction coils 5kW induction heating solution from the UltraFlex UltraHeat SM series had been used to supply power output of 5 kW throughout the entire brazing process.
At target temperature of 1250°F (676°C), it took 80 seconds to successfully complete the entire brazing cycle. The excellent brazing results achieved proved that this customer scenario was a very good fit for induction brazing. If fixture was used, the brazing process could be further automated for repeatability and consistency of the end results.
Find out more at:
Contact us at:
+1 631-467-6814
About UltraFlex Power Technologies:
UltraFlex Power Technologies (ultraflexpower.com) offers the most advanced and innovative digitally controlled induction heaters in the industry. Its compact modular and flexible systems are suitable for a wide variety of induction heating, casting and melting applications.
More from Computer Hardware & Peripherals