UltraFlex Preheating Stainless Steel with Induction Heater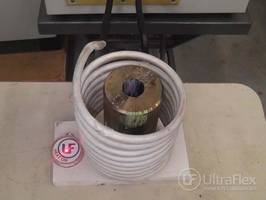 [Nov 26th, 2018] Another successful application of Induction heating for manufacturing purposes has recently been demonstrated by UltraFlex Power Technologies. The company - provider of the most innovative digitally controlled induction heaters in the industry - showed how a stainless steel cylinder could be heated at different temperature on the inside and outside, within less than a minute.
The objective of the test case was to preheat the inside of a cylinder having 3.015" (76.5mm) outside diameter, 1.125" (28.5mm) inside diameter and 6.8" (172.72mm) length to 121°C (250°F), while keeping the outside surface temperature at or below 204°C (400°F). A 23-35 kW induction heater from the UltraFlex UltraHeat M Series, capable of delivering full power in the 10-150kHz frequency range had been used for this test application. Tempilaq was applied to the full cylinder length, on the inside and outside, for temperature measuring purposes.
At power of 11.22 kW, the outside surface temperature of 204°C (400°F) had been reached within 30 seconds. The power was then shut off and thanks to the thermal conductivity, the heat was transferred to the inside surface until it reached 121°C (250°F). A total of 55 seconds were needed to complete the entire induction heating process.
The test scenario was set up and timed per request of a customer looking to introduce induction heating on the production line. The time and energy efficiency of this induction heating process were obvious. Moreover, the demonstration was carried out under complete safety, without requiring specific secure environment.
Find out more at:
Contact us at:
+1.631.467.6814
uptnews@ultraflexpower.com
About UltraFlex Power Technologies:
UltraFlex Power Technologies (ultraflexpower.com) offers the most advanced and innovative digitally controlled induction heaters in the industry. Its compact modular and flexible systems are suitable for a wide variety of induction heating, casting and melting applications.
Related