UltraFlex Preheating Cast Iron Parts to 240°C (464°F) Using Induction Heater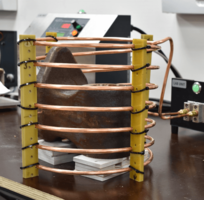 [June 18, 2020] The successful induction preheating for a cast iron part has recently been demonstrated by UltraFlex Power Technologies. The company, a leading manufacturer of digitally-controlled induction heaters, has set up the induction preheating application test per request of a customer - a manufacturer who offers solutions for the processing of metal and non-metal sheet and profile materials.
Preheating is a process often applied before welding. It helps achieve softer weld metal with better resistance. For this preheating process the part was required to be evenly preheated to the target temperature of 240°C (464°F), within a maximum of 10 minutes.
UltraFlex application engineers considered that an UltraFlex induction heater from UltraFlex UltraHeat SM series would be most appropriate for this test scenario. UltraHeat SM are compact 5kW induction heaters that operate with either a water-cooled or air-cooled remote heat station. They feature adaptive digital phase control providing efficient operation in a wide frequency range.
At power of 5 kW, within 4 minutes the heated part reached temperature of 123°C (253°F). The target temperature of 240°C (464°F) had been reached on the 10th minute, with homogeneity being obtained 1 min after the end of the preheating process. The part was then left to cool off on free convection cooling for 2 mins 30 secs. The measured surface temperature was thus reduced to 200°C (392°F).
This preheating application test proved induction heating could successfully be used for even preheating of cast iron parts. The process had been completed within the required time frame, while at the same time being times more energy-, time- and hence, cost-efficient. Moreover, the UltraFlex induction heater used for this preheating is an extremely compact system that saves space and ensures precise results. Operating UltraFlex induction heaters is extremely easy and hence, operator skill is no longer a factor affecting the quality and repeatability of the induction heating result.
Find out more at: https://ultraflexpower.com/
Contact us at:
+1.631.467.6814
uptnews@ultraflexpower.com
About UltraFlex Power Technologies:
UltraFlex Power Technologies (ultraflexpower.com) offers the most advanced and innovative digitally controlled induction heating equipment in the industry. Its compact modular and flexible systems are suitable for a wide variety of induction heating, casting and melting applications.
More from Fasteners & Hardware