UltraFlex Induction Soldering Litz Wire into Aluminium Lug in 25 Seconds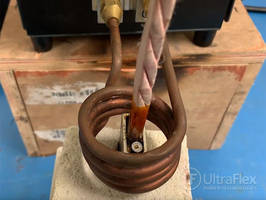 [May 3rd, 2019] A recent test application by UltraFlex Power Technologies proved that induction soldering was a faster and more cost-efficient method for soldering a litz wire onto an aluminum lug compared to torch-based soldering.
The test application had been requested by a customer using torch heating for this process. The customer was looking to achieve better control over the soldering time and temperature in order to increase productivity and ensure repeatability and consistency of the end result.
UltraFlex proprietary 5kW compact induction heating system from the UltraFlex UltraHeat SM series was considered most appropriate for this induction soldering scenario. UltraHeat SM induction heating units operate with either water-cooled or air-cooled remote heat station and are easy to tune to a wide range of loads and coils.
The induction soldering process was started by placing the aluminum lug in the center of a custom-designed UltraFlex coil. The Litz wire was placed into the lug along with the solder. At power of 1.75 kW and target temperature of 250°C (482°F), the solder started melting in 25 seconds. When it had melted completely, it was left to cool off for 1 minute.
The test application exceeded the customer's performance expectations for the induction soldering process. The induction soldering was not only time- and cost-efficient; it guaranteed the same consistent results every time, eliminating operator variability. The ease and safety of the induction soldering operation, as well as the elimination of smoke, waste heat, and noxious emissions were another benefit that would positively affect the workspace conditions.
Find out more at:
Contact us at:
+1.631.467.6814
uptnews@ultraflexpower.com
About UltraFlex Power Technologies:
UltraFlex Power Technologies (ultraflexpower.com) offers the most advanced and innovative digitally controlled induction heaters in the industry. Its compact modular and flexible systems are suitable for a wide variety of induction heating, casting and melting applications.
Related