UltraFlex Induction Heating Systems Successfully Used by Keystone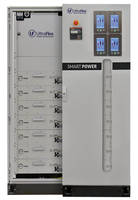 [July 23, 2020] UltraFlex Power Technologies has recently shared on their website the significant productivity increase registered by their customer Keystone who recently switched to using UltraFlex induction heating systems for their clients.
Keystone is a growing induction hardening company located in Nazareth, PA. They heat treat various parts for multiple industries like aerospace, defense, automotive and much more, with a different level of hardening required for each part.
Keystone has recently switched to using an UltraFlex induction heating system - the UltraFlex SmartPower™ system - for all induction hardening orders. Ultraflex SmartPower™ Compac Systems are a breakthrough innovation in the induction heating technology, featuring the Direct Digital Step™ control algorithm and a unique configurable modular approach. This induction heating equipment comes with a wide output frequency range – two ranges available from 6kHz to 60kHz and from 40kHz to 200kHz.
UltraFlex SmartPower is able to support a total of 8 modules (200 kW). Keystone is currently only using 3 modules (75 kW), leaving them with extra available capacity for when the production increases.
After an easy startup training, Keystone started using the new UltraFlex equipment, cutting the heat treatment from 45 minutes under their old equipment to only 5 minutes using UltraFlex induction heater. With a 75% turnover rate, they have now increased productivity and are completing orders much faster. Moreover, UltraFlex induction heating system has almost eliminated soft spots and can heat treat a single area of a part in seconds and not minutes, as it was under the previously used equipment.
Keystone confirmed that they were registering business growth and hence, were planning on adding more modules to their SmartPower induction heating system later this year.
Find out more at: https://ultraflexpower.com/
Contact us at:
+1.631.467.6814
uptnews@ultraflexpower.com
About UltraFlex Power Technologies:
UltraFlex Power Technologies (ultraflexpower.com) offers the most advanced and innovative digitally controlled induction heating equipment in the industry. Its compact modular and flexible systems are suitable for a wide variety of induction heating, casting and melting applications.
More from Sensors, Monitors & Transducers