Ultraflex Induction Brazing Steel Parts in Under 8 Seconds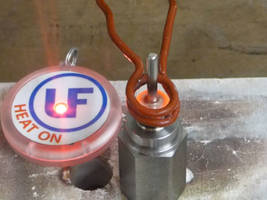 [July 17th, 2019] UltraFlex Power Technologies - a leading manufacturer of digitally controlled induction heaters - recently shared the results from a customer-requested induction brazing scenario.
The customer - a company operating in the sphere of Appliances and HVAC - was looking to replace the traditional torch heating-based brazing process for steel parts with induction brazing. The parts to be brazed were a 0.15''/ 3.81mm stainless steel pin to a steel hexagon (base 1''/ 25.4 mm diameter; 0.1''/ 2.54 mm wall thickness).
UltraFlex compact, 5 kW induction heating system from the UltraHeat SM series had been used to accomplish the brazing. UltraHeat SM operates with either water-cooled or air-cooled remote heat station. It features an advanced induction heating power supply utilizing the latest switching power technology. An all-purpose brazing flux, ideal for high-temperature brazing applications where rapid, localized heating is needed was used in this test case.
At power output of 1.43 kW and target temperature of 1400 °F/ 760°C, the induction brazing process for the 2 steel parts was completed in mere 8 seconds. The result was a strong and durable joint.
The entire brazing process, apart from being fast and energy-efficient, was incredibly simple to operate and completely safe thanks to the elimination of open flame. In addition, since induction heating does not burn traditional fossil fuels, the brazing process produced no smoke, waste heat, or noxious emissions.
Find out more at:
Contact us at:
+1.631.467.6814
uptnews@ultraflexpower.com
About UltraFlex Power Technologies:
UltraFlex Power Technologies (ultraflexpower.com) offers the most advanced and innovative digitally controlled induction heaters in the industry. Its compact modular and flexible systems are suitable for a wide variety of induction heating, casting and melting applications.
Related