UltraFlex Induction Brazing Demo for Copper, Brass and Steel Proves the Energy- and Time-Efficiency of the Induction Brazing Process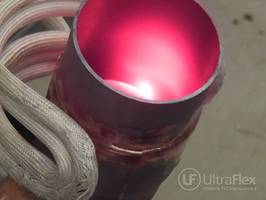 [Sept 27th, 2018] In a series of tests, UltraFlex Power Technologies - manufacturer of the most advanced digitally controlled induction heating solutions in the industry - demonstrated the induction-based brazing process for 4 different types of assemblies: copper to copper, copper to brass, copper to steel, and brass to steel assembly. The company shared the brazing time and heating parameters used for each test, proving the energy- and time-efficiency of the induction brazing process.
All 4 tests aimed at achieving a target brazing temperature of 1200°F to 1400°F+ (648°C to 760°C+). The induction heating was supplied by an UltraFlex proprietary 25-35 kW induction heating equipment from the UltraHeat M series. The UltraHeat M series feature adaptive digital phase control providing very efficient operation in a wide frequency range, capability to deliver full power in the 10-150kHz frequency range, power control from 10 to 100% in 1% increments and much more.
The copper to copper test aimed at brazing 2 copper pipes of 2.14" (54.35mm) and 2.25" (57.15mm) outside diameter, inserted into each other. At power of 30.6 kW, the entire brazing cycle was completed within mere 30 seconds.
The copper to brass test was carried out on an assembly having 1.66" (42.16mm) outside diameter, 0.06" (1.52mm) thick wall, 1.56" (39.62mm) long. The heat cycle was started with lower 7 kW power output then raised to 19.03 kW in a span of 30 seconds, to prevent damage to the part. The power was then lowered to 15.36 kW over the next 10 seconds, leaving it the same over the next 25 seconds to ensure full alloy flow. The entire brazing process took 65 seconds to complete. The brazing time could be reduced to 20 seconds or less if full power was applied at the beginning, but monitoring for potential part damage would be then required.
In the third test, copper tube of 2.15" (54.61mm) outside diameter had to be brazed to steel tube of 1.98" (50.29mm) outside diameter, with a 2.5" (63.5mm) flange. This test was done using 16.21 kW starting power, increasing it to 23.27 kW over the course of the test, to prevent overheating of the steel ring. The brazing process was completed within 35 to 40 seconds.
The brass to steel test required brazing of brass fitting with 1.85" (46.99mm) inside diameter and 2.35" to 2.9" (59.69mm to 73.66mm) outside diameter to steel with 1.8" (45.72mm) inside diameter and 1.98" (50.29mm) outside diameter, with 2.5" (63.5mm) flange. This fourth test was conducted with a starting power of 7.39 kW, raised to 14.93 kW. It was then lowered to 11.17 kW to prevent overheating of the steel ring or the edges of the brass.
All tests required rotating of the parts to allow for even heating. A handheld coil would allow easy regulation and spread out of the heat by the end user.
The test results shared by UltraFlex proved that the use of induction heating for brazing different materials was both energy and time-efficient. Further optimizations related to the quality of the brazing process and time consumed to complete it were easy to identify and apply for the purpose of production line brazing.
Find out more at:
Contact us at:
+1.631.467.6814
uptnews@ultraflexpower.com
About UltraFlex Power Technologies:
UltraFlex Power Technologies (ultraflexpower.com) offers the most advanced and innovative digitally controlled induction heaters in the industry. Its compact modular and flexible systems are suitable for a wide variety of induction heating, casting and melting applications.
Related