UltraFlex Heating Wires to 204°C (400°F) in 0.8 seconds Using Induction Heating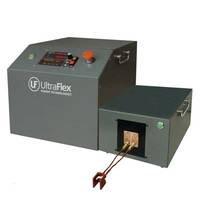 [May 2nd, 2018] UltraFlex - provider of the most innovative digitally controlled induction heating solutions in the industry - shared the results from their recent induction heating tests performed on wires with different diameter. Using the company's proprietary induction heating equipment - an UltraHeat 10 kW power supply and a HS8LF Heat Station - UltraFlex successfully heated wires of 4 different diameters - ranging between 0.05′ (1.27mm) and 0.110″(2.79mm).
The induction heating process required no special environment or treatment of the wires. Prior to the heating they were only cleaned and had a 204°C (400°F) Tempilaq applied over their full length, for temperature measuring purposes.
Using power of 2.22 to 5.25 kW, it took as little as 0.6 to 0.9 seconds to reach the target temperature of 204°C (400°F) over the full length of the wires. UltraFlex engineers assured that additional development testing would allow further optimization of the heating equipment for this application, resulting in even shorter heating times.
The tests were done using а 10 kW power supply from the UltraFlex UltraHeat W Series. Even though a 5 kW supply could still be used, a 10 kW one would allow for additional tuning by the end user and would permit flexibility so production rates could be easily increased in the future.
Find out more at:
Contact us at:
+1.631.467.6814
uptnews@ultraflexpower.com
About UltraFlex Power Technologies:
UltraFlex Power Technologies (ultraflexpower.com) offers the most advanced and innovative digitally controlled induction heating technology in the industry. Its compact modular and flexible systems are suitable for a wide variety of induction heating, casting and melting applications.
Related