UltraFlex Forging Titanium at 1750 Degrees F (954 Degrees C) within 55 Seconds Using Induction Heating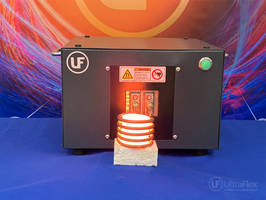 [May 9th, 2019] A recent test by UltraFlex Power Technologies demonstrated how induction heaters may efficiently replace industrial oven heating for titanium forging. UltraFlex - a leading manufacturer of advanced, digitally controlled induction heating solutions - is continuously proving the energy- and cost-efficiency of induction heating in manufacturing, by showcasing test application results achieved following requests from customers.
In this test application, a 2"by 2"titanium billet had to be forged, at target temperature of 1750°F (954 °C). Due to the specifics of the heated object, the induction heating had to ensure even heating and excellent heat penetration while still being energy efficient.
A 5-15 kW induction unit from the UltraFlex UltraHeat W series had been considered most appropriate for this heating application. UltraHeat W are advanced and cost-effective induction heating systems, configured to operate with external Heat Stations allowing output connections to be available from all sides. A custom induction coil had been designed for this heating application. The temperature was monitored in the center using an infrared pyrometer to ensure the billet was thoroughly heated and ready for forging.
At the maximum power output of 15 kW for the heating unit and cycle time induction heating applied, the billet was heated to the high target forging temperatures within mere 55 seconds. The low frequency used guaranteed increased penetration depth and a more efficient heating process.
The post-heating evaluation showed that, compared to industrial oven heating, the induction heating process was faster and much more energy- and cost-efficient. The precise control over time and temperature resulted in improved quality and would guarantee consistent result on the production line. Finally, the induction heating was a much safer and greener process, eliminating any smoke, waste heat, and noxious emissions.
Find out more at:
Contact us at:
+1.631.467.6814
uptnews@ultraflexpower.com
About UltraFlex Power Technologies:
UltraFlex Power Technologies (ultraflexpower.com) offers the most advanced and innovative digitally controlled induction heaters in the industry. Its compact modular and flexible systems are suitable for a wide variety of induction heating, casting and melting applications.
Related