UltraFlex Demonstrating Hardening of Push and Plane Rods Using Induction Heating, at Temperature 1508˚F – 1742˚F (820˚C – 950˚C)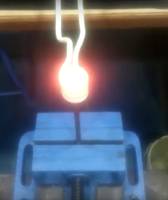 [Oct 10th, 2018] UltraFlex - a leading induction heating solutions provider - has demonstrated the hardening of a push rod and plane rod using induction heating, at temperature of 1508˚F–1742˚F (820˚C – 950˚C).
The hardening process is yet another application of induction heating demonstrated by UltraFlex engineers, using the company's proprietary, advanced digitally controlled induction heating equipment.
For this test case, a compact 5 kW induction heating system from UltraFlex UltraHeat SM series had been used to achieve the target temperature, along with an HS-4 heat station. The material for the push rod was a 0.3" (7.5 mm) diameter wire. The rod had total length of 12" (304.8 mm), of which 0.79" to 1.18" (20 mm to 30 mm) had to be heated and hardened. The plane rod was made of slightly thicker 0.39" (9.8 mm) diameter wire, with same total length and 0.59" to 1.18" (15 mm to 30 mm) heating length.
The hardening process was completed within mere 20-30 seconds, using power of up to 5 kW. The hardness achieved was 52 to 56 HRC.
The heating process was fast, energy and cost efficient. Due to the lack of flame, no specific conditions were required to complete the test application, despite the high temperature required for it.
Find out more at:
Contact us at:
+1.631.467.6814
uptnews@ultraflexpower.com
About UltraFlex Power Technologies:
UltraFlex Power Technologies (ultraflexpower.com) offers the most advanced and innovative digitally controlled induction heaters in the industry. Its compact modular and flexible systems are suitable for a wide variety of induction heating, casting and melting applications.
Related