UltraFlex Demonstrates Induction-Based Shrink Fitting of Teflon Insulation onto a Wire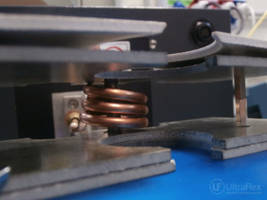 [May 07, 2020] A recent demonstration by UltraFlex Power Technologies showed the time- and cost-efficient process of shrink fitting Teflon insulation onto a wire using an induction heater.                    
The company - a leading producer of advanced Induction solutions - is frequently setting up application tests per customer request, aiming at identifying the results achieved for different induction heating customer scenarios, and the induction equipment most appropriate for those.
In this application test, Teflon insulation had to be shrink-fitted onto a wire having 0.035 in (0.014 cm) diameter using target temperature of 660°F (350°C). Overheating of the inner wire had to be prevented to achieve a uniform shrink-fitting of the insulation.
A 2 kW induction heater from UltraFlex UltraHeat S series, along with a 3-turn induction coil had been considered most appropriate for this heating scenario. UltraHeat S Series are small and economical 2kW induction heaters which operate with water-cooled or air-cooled remote heat station.
A stainless steel pipe had been used as a susceptor for this induction heating. A simple fixture to hold the stainless steel pipe was made to prevent the wire and insulation from touching the hot surface of the pipe. A thermocouple was attached to one end of the tube and to the induction generator to use the generator's thermo-regulation.
At power output of 0.4 kW, it took as little as 30 seconds to shrink-fit the Teflon insulation onto the wire. The result was a high-quality wire insulation, with the wire not being damaged throughout the process.
The process had been easy to operate, energy- and cost-efficient. It had also been safe to the environment thanks to the lack of open flame, smoke and noxious emissions.
Find out more at: https://ultraflexpower.com/
Contact us at:
+1.631.467.6814
uptnews@ultraflexpower.com
About UltraFlex Power Technologies:
UltraFlex Power Technologies (ultraflexpower.com) offers the most advanced and innovative digitally controlled induction heaters in the industry. Its compact modular and flexible systems are suitable for a wide variety of induction heating, casting and melting applications.
More from Fasteners & Hardware