UltraFlex Demonstrates Hardening and Tempering of Alloy Steel Chains Using Induction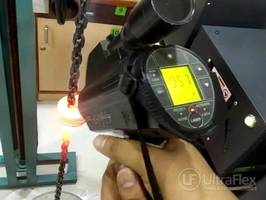 [Nov 2nd, 2018] UltraFlex Power Technologies recently published the results from yet another test application of induction heating for manufacturing purposes. In the test, industrial chains made up of alloy steel had to be hardened and tempered using induction heating, at temperatures of 1580˚F (860˚C) and 204˚F (400˚C) respectively.
UltraFlex provides the most advanced digitally controlled induction heating solutions in the industry and used its proprietary induction heating equipment from the UltraHeat W series for the test. UltraHeat W is a 5-15 kW induction heating system, ensuring very efficient operation in a wide frequency range. 10 kW of power had been used in this application.
The chain was 0.12″ to 0.31″ (3 mm to 8 mm) thick, with weight 0.77 lb – 4 lbs (0.35 kg – 2 kg) per meter. The tests aimed at hardening it at a rate of 0.16″ – 26″ (4 mm – 0.66 M) per minute at 1580˚F (860˚C), and then tempering it at a rate of 0.31″ – 36″ (8 mm – 0.92 M) per minute at 204˚F (400˚C). The targeted overall productivity rate was hardening 0.16″ – 26 lbs (4 mm – 12 kg) per hour and tempering 0.31″ – 163 lbs (8 mm – 74 kg) per hour.
All targeted objectives had been successfully achieved during this application test. The resulting chain hardness was 47 – 48 HRC. This was yet another successful application of induction heating for manufacturing demonstrated by UltraFlex. Not only was the hardening and tempering process completed fast, with target parameters met in full, it was also energy efficient. In addition, since induction heating eliminates the need for open flame, this meant eliminating smoke, waste heat and noxious emissions. The process was easy to operate and completely safe, without requiring specific working conditions.
Find out more at:
Contact us at:
+1.631.467.6814
uptnews@ultraflexpower.com
About UltraFlex Power Technologies:
UltraFlex Power Technologies (ultraflexpower.com) offers the most advanced and innovative digitally controlled induction heaters in the industry. Its compact modular and flexible systems are suitable for a wide variety of induction heating, casting and melting applications.
Related