UltraFlex Demonstrates Diamond Enhancement at 1840°С Using Induction Heating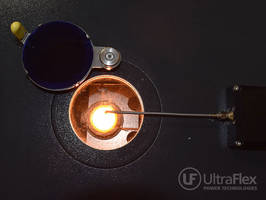 [April 25, 2019] The successful usage of induction heating for the jewelry industry has been recently showcased by UltraFlex Power Technologies. UltraFlex is a leading manufacturer of digitally controlled induction heating solutions and offers a compact and affordable centrifugal casting system – Easycast – that is perfect for small jewelry manufacturers or boutique shops. Easycast utilizes advanced, efficient induction heating technology with automatic frequency setting and low energy consumption.
In this showcase, Easycast has been successfully used to enhance diamond appearance.
Diamonds have special optical properties such as high dispersion and lustre (also known as adamantine). Heat treatment can enhance a diamond's clarity and make it look spectacular.
Heat treatment was a popular craft in the past and artisans used to apply heat to gemstones in order to create new, more vibrant colours. Nowadays, induction heating can do the same for up to 10 -15 mins.
During the testing process in our laboratory, the diamond was heated up to 1840°С in an argon atmosphere. As a result from the heat treatment, the clarity and the colour density of the precious stone were substantially improved. The smoky colour, which resulted from the heating process, was later removed with chemicals.
The end result from this time-efficient induction heating treatment was a great-looking diamond, with higher quality appearance. Thanks to the low energy consumption and integrated Infrared temperature control of the induction unit used, the treatment of the diamond was also cost-efficient, with guaranteed quality and repeatability of the end result.
Find out more at:
Contact us at:
+1.631.467.6814
uptnews@ultraflexpower.com
About UltraFlex Power Technologies:
UltraFlex Power Technologies (ultraflexpower.com) offers the most advanced and innovative digitally controlled induction heaters in the industry. Its compact modular and flexible systems are suitable for a wide variety of induction heating, casting and melting applications.
Related