UltraFlex Demonstrates Automated, Robotic Induction Brazing of Heat Exchangers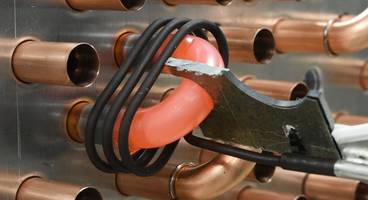 [July 10, 2020] In a recent customer-requested test application, UltraFlex Power Technologies demonstrated how a fully automated, robotic induction heating process could be used for the brazing of heat exchangers.
UltraFlex is a leading manufacturer of advanced, digitally-controlled induction heaters and their potential and current customers are frequently using the company's application lab to evaluate the induction heating results and specific heating parameters for a number of heating applications.
In this scenario, the customer - a manufacturer of appliances - was looking to achieve full automation for the process of brazing copper heat exchanger pipes.
UltraFlex application engineers considered that either of two UltraFlex solutions - UltraFlex RoboBraze and UltraFlex Dragon 15 - would be appropriate to ensure an automated, high-quality brazing process.
RoboBraze is a mobile induction heating and brazing unit that can be integrated with robotic arms, in automated production lines or for in-place brazing. It has special induction heating terminals to mount various custom heating coils. It can be interfaced with industrial robots like Dragon 15 via analog and digital signals or serial interface. Dragon 15 integrates the Ultraflex W15 (15 kW) induction heating system with a Universal Robots cobot (UR 5) to achieve a fully automated brazing process. The induction coil mounted directly onto the robotic arm is capable of reliably brazing multiple joints by applying controllable heat precisely positioned by the robotic arm.
For this test application, Dragon 15 was used and it was pre-programmed to take into consideration the size and form of the copper pipes, so repeatability could be guaranteed. The robotic arm then moved between the pipes with great precision, applying the required heating power for a period of 12 seconds so the alloy ring would melt and the brazing would be completed. It then moved onto the next pipe joint.
This test application proved the reliable and fully repeatable, consistent brazing results achieved by UltraFlex Dragon 15. The brazing process had not only been fully automated, it vastly reduced the time and energy consumed throughout the process. Last but not least, this was an environmentally safe process, with no smoke, waste heat, or noxious emissions.
Find out more at: https://ultraflexpower.com/
Contact us at:
+1.631.467.6814
uptnews@ultraflexpower.com
About UltraFlex Power Technologies:
UltraFlex Power Technologies (ultraflexpower.com) offers the most advanced and innovative digitally controlled induction heating equipment in the industry. Its compact modular and flexible systems are suitable for a wide variety of induction heating, casting and melting applications.
More from Sensors, Monitors & Transducers