UltraFlex Brazing Copper Cylinder to Copper Wire in 5 Secs Using Handheld Induction System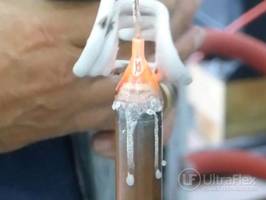 [Feb 6th, 2019] UltraFlex - manufacturer of the most advanced digitally controlled induction solutions in the industry - has recently demonstrated the successful application of their handheld induction system UBraze for time-efficient and high quality induction brazing.
The application scenario required brazing of copper cylinder to copper wire at target temperature of 1600°F (871°C). To achieve the target temperature and efficiently heat the assembly, the induction heating process required power on demand with rapid heat cycles.
All heating requirements were met using UltraFlex UBraze mobile induction heating unit, featuring an easy-hold grip, and a handle at the top of the unit to maximize stability. To ensure rapid supply of 12 kW of power needed for this brazing application, UBraze was coupled with a 15 kW power supply from the UltraFlex UltraHeat W series. UltraHeat W are advanced, cost-effective 5-15 kW Induction systems utilizing the latest switching power supply technology and capable of providing 10 to 100% of power in 1% increments.
At 12 kW of power supplied, the brazing process was successfully completed within mere 5 seconds, achieving a strong and durable joint. Thanks to the strict control of the time and temperature parameters, when used on the production line, the induction brazing process would allow for high quality, repeatability and consistency of the end result. Which is more, compared to flame-based brazing, the induction brazing would ensure reduced defects due to overheating as well as a completely safe and non-toxic working environment.
Find out more at:
Contact us at:
+1.631.467.6814
uptnews@ultraflexpower.com
About UltraFlex Power Technologies:
UltraFlex Power Technologies (ultraflexpower.com) offers the most advanced and innovative digitally controlled induction heaters in the industry. Its compact modular and flexible systems are suitable for a wide variety of induction heating, casting and melting applications.
Related