UltraCap® H.D. Capsule in 40 in. Length Provides Large Volume Filtration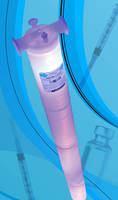 UltraCap® H.D. (Heavy Duty) single-use high capacity capsule filters provide high flow rates and high throughput, in lengths up to 40 inches (100 cm) for large volume filtration. The robust UltraCap® H.D. resists damage due to rough handling conditions and demanding environments. It has no sharp edges, which makes it ideal for integration into One-Touch® single-use systems (SUS), or other compatible SUS.

The UltraCap® H.D. is optimized for continuous and batch processing in biomanufacturing operations and for final and prefiltration in pharmaceutical applications. Additional lengths of 10-, 20- and 30-inches (25 cm, 50 cm, and 75 cm) give end users maximum scale-up flexibility. Offered with T-style sanitary flange inlet and outlet connections, UltraCap® H.D. can be specified with a choice of filter media removal ratings from 0.04 ìm to 99 ìm. Meissner membranes in STyLUX® or EverLUX(TM) PES, SteriLUX® or Steridyne® PVDF, Ultradyne® PTFE and Chemdyne® polypropylene are available, as well as prefilter microfiber media in ALpHA® polypropylene, Protec® glass, and DeltaMax(TM) and DeltaDepth® polypropylene depth.

UltraCap® H.D. is available gamma-irradiated for aseptic applications.

Meissner manufactures advanced microfiltration products and One-Touch® single-use systems used in the sterilization of drugs, reagents, and other critical pharmaceutical and biomanufacturing applications. Meissner provides comprehensive qualification and validation services, documentation, and application support to optimize filtration and single-use fluid management systems. Meissner's global customer base is serviced through a worldwide network of both factory-trained local distributors and factory personnel. For more information, visit www.meissner.com, call 805-388-9911, or write: Meissner Filtration Products, Inc., 4181 Calle Tesoro, Camarillo, CA 93012.

More from Communication Systems & Equipment