Ultra Sanitary Trough Conveyor for Raw Dough...with 12 inch Incline!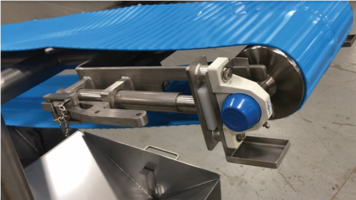 Winneconne, WI - Multi-Conveyor (www.multi-conveyor.com) - Multi-Conveyor recently built this stainless steel welded, washdown sanitary trough conveyor to transport balls of bakery dough. The 6' long urethane belt conveyor feeds and discharges from existing conveyors. This particular section is SO SANITARY that we didn't even want to run demo product on the belt!
This super clean trough design includes holes for easy cleaning; 2-pin pull belt removal for maintenance and no wear strips. The belt itself is formed in a "U" shape for product stability.
NTR belt removal takes mere seconds/minutes, allows for easy maintenance and simplistic changeovers, alleviates unnecessary toolboxes and tools for increased operator safety. The tool-less pin-pull approach allows the operator to remove the belt in mere seconds for routine maintenance. 
Bottom drip pans with clean and drain spouts were incorporated to catch the balled dough residue. The system has a 12" incline from the 42" T.O.C. (top of conveyor) infeed elevation to the 54" T.O.C. discharge elevation.
About Multi-Conveyor
Multi-Conveyor is a leading manufacturer of standard and custom conveyor solutions for End-Users, Integrators, Engineering firms, OEM's and Contract Packagers across multiple markets. We specialize in conveyor systems for packaging or material handling for nearly every industry, product, shape and size. Our customers report they select Multi-Conveyor for concept/design, engineering skills, quality product, best value and prompt delivery.
Multi-Conveyor excels in sanitary conveyor, easy to maintain, clean-in-place or "no tools required" belt changeover systems for nearly any industry. We direct manufacture stainless steel and mild steel construction conveyors for table top chains, modular plastic belts, fabric belting, wire belt, and new custom sanitary MDR and sanitary gravity roller systems . Our in-house electrical and engineering departments execute the controls, panels, devices, PLCs, VFDs, HMIs, safety, inspection and sensors needed to integrate our systems with multiple packaging platforms. Quick ship plastic chain and low-profile, small transfer, pre-engineered sanitary and non-sanitary belt systems are available for quick delivery too!
All of these construction designs and technologies can be found on our website at www.multi-conveyor.com.
Contact Info for Publication:
Multi-Conveyor LLC
P O Box 10
Winneconne, WI 54986
1-800-236-7960
www.multi-conveyor.com
PR Contact Non-Publication: