Ultra-High Frequency Gen 2 Desktop RFID Reader/Writer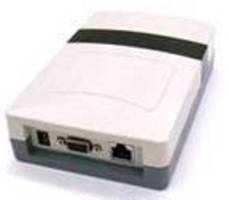 Toronto, Canada - GAO RFID Inc. (www.GAORFID.com) has rolled out a standalone UHF Gen 2 RFID reader/writer which is compliant with both EPC Class 1 Gen 1 and Gen 2 protocols. It operates in the 860MHz to 960MHz frequency band and supports both North America and EU standards. The Gen 2 RFID reader is an ideal solution for testing and validating applications.

The standalone UHF Gen 2 RFID reader, model 236007W, provides a maximum reading distance of 50cm with a built-in antenna. Its RF power output is adjustable from 0dBm to 30dBm. This ultra-high frequency RFID reader/writer allows users to choose from a variety of configuration options via a user-friendly Web browser interface. It is shipped with a software development kit (SDK) that facilitates the development of user-specific requirements. The RFID reader supports Wiegand 26/34 and RS232 communications interfaces. Encapsulated within an ABS case, it performs well even in harsh environments.

Visit www.GAORFID.com for more information.

For any sales inquires please contact:

1-877 585-9555 ext. 601 - Toll Free (USA & Canada)

1-416 292-0038 ext. 601 - All Other Areas

[email protected]

About GAO RFID Inc.

GAO RFID Inc. (www.GAORFID.com) is a leading provider of RFID Readers, RFID Tags and RFID software providing cost saving solutions to end users worldwide. GAO offers all RFID technologies: Low Frequency (LF), High Frequency (HF), Ultra High Frequency (UHF, Gen 2) as well as Active and Semi-Passive. GAO RFID's products and services are easily customized for use in asset tracking,healthcare, supply chain & logistics, event management, access control, livestock tracking, inventory control & management, field service maintenance and document authentication.