Ultra Fast Fire Detection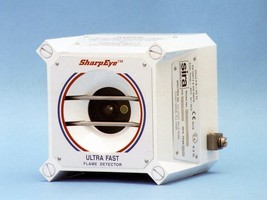 Cedar Grove, NJ (February 8, 2007) - Spectrex Inc., the world's leader in the development and implementation of optical flame and gas detection and suppression systems, has launched its ultra fast SharpEye 20/20F (UV/IR) model, which has many applications in the explosives, propellants, oxidants and other energetic materials industries.

Protecting ammunition plants and propellant storage depots is a difficult task in peace times, but even more so in the turbulent present times. The explosives, propellants, oxidants and fuels employed in this industry are highly reactive materials that are difficult to control once a combustion process starts. Detecting the ignition process (whether accidental or intentional following a terrorist attack) at its start is crucial - and requires reliable, fast and accurate means.

The well-proven Spectrex military detector has been successfully tested by the US Air Force in the Advanced Fire Protection Deluge Systems (Phase 2) program on various types of incendiary flares and ammunition mixtures.

The detector detects a small ammunition fire in less than 5 milliseconds from its ignition and activates fast deluge fire suppression systems. The 20/20F Flame Detector is an industrial version of the military detector that is housed in an Explosion Proof (EX) housing and is produced and tested to the highest standards of performance. The detector is sensitive to radiation in two frequency ranges of the electromagnetic spectrum: the infra red (IR) and the ultraviolet (UV). Only simultaneous sensing within these two ranges of radiation will result in a detector output pulse.

The detector's excellent performance record in the military applications (over 30,000 detectors operating worldwide) and its successful performance in the fast deluge tests renders it as the ammunition industry preferred detector.

About Spectrex Inc.
For over 25 years, Spectrex Inc has been providing the market with the best detection and suppression systems and products that meet the highest customers' requirements for reliability, quality and operation in extremely tough environments.

Spectrex's competitive edge is based on its innovative capabilities and its unique technologies that are protected by more than 20 diverse international patents, including UV/IR and IR3 Optical Flame Detection, Flash-Type Open Path Gas Detection, EMF and SFE novel fire suppression technologies.

For more information about Spectrex Inc and its products, visit www.spectrex-inc.com, or contact
Eric Zinn at 1(973) 239-8398 or
1(800) 452-2107 (Toll free within the US only).

More from Construction Equipment and Supplies