Ultra Compact Nettop is Energy Star qualified.
Press Release Summary: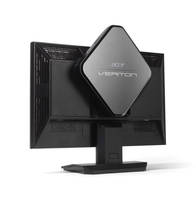 Combining Intel® Atom Processor N280 with Intel® GN40 Express chipset, Veriton N260G-U2802CP suits applications in small offices, reception areas, classrooms, libraries, showrooms, and call centers. It can store and playback HD videos and display sharp images with 2 GB DDR2 SDRAM, 160 GB SATA hard drive, and Intel® Graphics Media Accelerator 4500M. Ports available are HDMI for high quality images, multi-in-1 card reader, 6 USB 2.0 ports, HD headphone and microphone jacks and PS/2 slot.
---
Original Press Release:

Acer Brings Veriton N260G Nettop to the U.S. Professional Market



Efficient in Form and Function, Tiny One-Liter Nettop Saves Space, Power and Time

SAN JOSE, Calif. -- Acer America, part of the world's third largest PC vendor (1), today announced the new Veriton N260G-U2802CP, an ultra-compact nettop for the U.S. professional market. It will be available via Acer's authorized resellers with prices beginning at just $399.

Housed in a sleek one-liter chassis, the Veriton N260G maximizes space whether it's placed upright with its retractable stand or attached to the back of a display. Due to its small size and flexible design, this practical nettop is well-suited for small offices, reception areas, classrooms, libraries, showrooms, call centers, hotel front desks or airline check-in kiosks.

"Combining a sleek form factor with power saving technology, the Veriton N260G is a convenient, low-maintenance device for accomplishing basic computing tasks in areas where there is little desk space," said Leila Axelle Robert, Acer Commercial Systems Business Manager. "Whether the Veriton N260G is leveraged for classrooms, libraries or administrative purposes, this nettop delivers a streamlined solution for a small investment with a low total cost of ownership."

Power Saving Technology, Energy Star Qualified

The Veriton N260G-U2802CP combines a low power consumption Intel® Atom(TM) processor with an Intel® GN40 Express Chipset, a practical platform for basic productivity and Internet-based applications. With up to 2GB of memory, a 160GB(2) hard drive and Intel® Graphics Media Accelerator 4500M, the Veriton N260G has ample storage and can playback high-definition videos and display sharp images in vivid color.

The Veriton N260G is Energy Star qualified and given its extremely compact size, it uses less material and packaging than other PCs. It also features Acer PowerSaver, which gives users the option to conserve energy and power on demand.

Smart Design Boasts Flexible Mounting System and Cable Management

A VESA mounting system enables the nettop to easily adhere to the rear of various displays. This space-saving all-in-one capability makes it easy to fit in almost any work area. The VESA mount offers vertical adjustment to ensure that the power button and memory card reader are perfectly accessible from the top of the LCD display.

A screw-less chassis eases upgrades and maintenance, while a smart design ensures neat cable management and quiet operation. In addition, the OneButton Recovery re-set pinhole restores systems to retrieve documents in case of a power failure or other issue.

The nettop comes with an array of ports for connecting to a wide array of peripherals and digital devices. These include HDMI to deliver crisp, high quality images, a multi-in-1 card reader, six USB 2.0 ports, high-definition headphone and microphone jacks and a PS/2 slot. WiFi 802.11 b/g/Draft N and Gigabit Ethernet are also provided to deliver users an efficient, secure and stable LAN connection.

Easy-to-Use Utility Suite Simplifies Routine Tasks

The Veriton ControlCenter is pre-loaded on the N260G. It's a user-friendly utility suite designed to help users streamline routine tasks and ultimately save time. The Veriton ControlCenter includes the following handy tools:

o Acer QuickMigration quickly updates and transfers personal data from one PC to another using a common network cable.

o Acer PowerSaver configures power levels according to computer usage; low power for normal use and energy saving, and high power when top performance is required.

o Acer SmartBoot automatically loads frequently used programs in the system tray at start

o Acer eLock Management offers password protection to lock removable data devices, optical drives, and other interfaces to ensure that data can't be stolen.

o Acer eSettings Management offers an intuitive interface for configuration and control of the system.

Pricing, Availability and Specifications

The Acer Veriton N260G-U2802CP is now available in North America via Acer authorized resellers with prices beginning at just $399.

Veriton N260G-U2802CP

o Intel® Atom Processor N280 (512KB L2 Cache, 1.66GHz, 667Mhz FSB)

o Intel® GN40 Express Chipset

o Windows® XP Professional, Recovery CD with Windows Vista® Business

o 2GB DDR2 SDRAM

o Two Memory Slots: Upgradeable to 2GB (One GB in Each Slot)

o 160GB SATA Hard Drive(2)

o Intel® Graphics Media Accelerator 4500M (Intel® GMA 4500M)

o Multi-In-One Card Reader

o Six USB 2.0 Ports (Four in Front, Two in Back)

o HDMI Port

o PCI Express® Mini 1.1 x 1 Slot

o Gigabit Ethernet, WiFi 802.11 b/g/Draft N

o PS2 Keyboard

o USB Optical Mouse

o One Year Limited Warranty

About Acer

Since its founding in 1976, Acer has constantly pursued the goal of breaking the barriers between people and technology. Focused on marketing its brand-name IT products around the globe, Acer ranks as the world's No. 3 vendor for total PCs(1) and No. 2 for notebooks,(3) with the fastest growth among the top-five players. A profitable and sustainable Channel Business Model is instrumental to Acer's continued growth, while the successful mergers of Gateway and Packard Bell complete the company's global footprint by strengthening its presence in the U.S. and enhancing its strong position in Europe. The Acer Group employs more than 6,000 people worldwide. 2008 revenues reached US$16.65 billion. See www.acer.com for more information.

1. Source: Gartner data, 2Q09

2. Accessible capacity varies; MB = 1 million bytes; GB = 1 billion bytes

3. Source: Gartner data, FY 2008

Contacts

Acer America

Erin Davern,
949-471-7785

More from Packaging Products & Equipment