ULTRA Broadband Video Baluns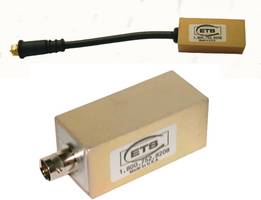 Baluns that save time and money!
The ETS ULTRA Broadband Video Baluns greatly expand the range of applications. The frequency range has been increased and the EMI reduced by enhanced filtering and an all-metal enclosure.
FCC requirements preclude boosting signal levels to the values required to guarantee preset distances. The distance achieved is a function of signal level, balance and the degree to which the cable used unbalances the signal. Cat5e maintains signal balance least 5dB better than Cat5. Level 7 or equivalent cable is another 5dB better providing for a signal drive level of not more than 46dBmV.
The passive ETS Broadband Video (CATV) balun allows the 75 ohm coaxial cable (RG59U or RG6U) to be replaced by a single unshielded twisted pair (UTP) and transmits a video up to 77 channels (550 MHz). The ULTRA Broadband Video Balun also passive transmits a video up to 120 channels (850) MHz).
What does this mean for you? It would provide low-cost solutions for moves and changes by reducing cable costs and re-wiring labor. Less work and saved money!
The ULTRA Broadband Video Baluns are ideal for media retrieval systems, schools, churches, apartments and cable distribution. They can be designed for point to point connection and operate in pairs.
Only Neutrik connectors are used in ETS products.
Visit! Energy Transformation Systems, Inc.
Website: http://www.etslan.com
About ETS - Woman Owned Small Business
Fremont, CA - Since 1967, beginning with custom-made transformers and continuing since 1981 as innovators of balun, hub, adapter and splitter technology, ETS provides a wide range of media conversion solutions for audio, data and video for analog or digital installations over structured wiring systems. ETS provides you solutions with 100% guaranteed USA-Made products.
Energy Transformation Systems,
43353 Osgood Rd., Unit B,
Fremont, CA 94539
(T) 800-752-8208, 510-656-2012
(F) 510-656-2026
Sales Contact:
Name: Joe Rosenberger,
ETS Sales
Email address: jrosenberger@etslan.com
More from Electrical Equipment & Systems