ULP Wireless MCU Platform enables battery-less IoT connectivity.
Press Release Summary: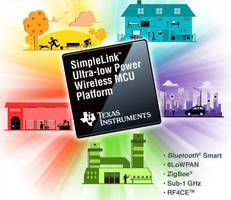 SimpleLink™ fosters development of battery-less designs with energy harvesting or multiple-year, always-on, coin cell-powered operation. Supporting Bluetooth® low energy (BLE), ZigBee®, 6LoWPAN, Sub-1 GHz, ZigBee RF4CE™, and proprietary modes up to 5 Mbps, platform provides flexibility to develop products that support multiple wireless connectivity standards using one chip and identical RF design. Components include ARM® Cortex®-M3 MCU, Flash/RAM, ADC, peripherals, and sensor controller.
---
Original Press Release:

TI Makes Battery-Less IoT Connectivity Possible with the Industry's First Multi-Standard Wireless Microcontroller Platform



New SimpleLink™ ultra-low power wireless platform for Bluetooth® Smart, 6LoWPAN, ZigBee®, Sub-1 GHz and ZigBee RF4CE™



DALLAS – Texas Instruments (TI) (NASDAQ: TXN) today announced the new SimpleLink™ ultra-low power wireless microcontroller (MCU) platform that helps customers go battery-less with energy harvesting or enjoy always-on, coin cell-powered operation for multiple years. With this industry-first technology, customers have the flexibility to develop products that support multiple wireless connectivity standards using a single-chip and identical RF design. The SimpleLink ultra-low power platform supports Bluetooth® low energy, ZigBee®, 6LoWPAN, Sub-1 GHz, ZigBee RF4CE™ and proprietary modes up to 5Mbps. This platform expands TI's SimpleLink portfolio, the broadest, lowest power and easiest to use wireless connectivity offering in the industry for the Internet of Things (IoT). For more information, visit www.ti.com/simplelinkulp.



Extending TI's low-power MCU leadership, the SimpleLink ultra-low power platform is the most integrated with an ARM® Cortex®-M3 MCU, Flash/RAM, analog-to-digital converter, peripherals, sensor controller and built-in robust security on chip. The platform is also the easiest to design with through ready-to-use protocol stacks, TI RTOS, Code Composer Studio™ integrated development environment (IDE), development tools, online training and E2E™ community support. Minimal RF expertise is required with available reference designs, which simplify development and layout. Additionally, TI makes it easier for customers to connect to the cloud through the TI IoT cloud ecosystem.



The first members of the SimpleLink ultra-low power wireless MCU platform are the CC2640 for Bluetooth Smart, and the CC2630 for 6LoWPAN and ZigBee. For additional flexibility, customers can use the CC2650 wireless MCU supporting multiple 2.4 GHz technologies including Bluetooth Smart, 6LoWPAN, ZigBee and RF4CE. Leveraging this multi-standard support, customers can future-proof their designs and configure their chosen technology at the time of installation in the field. Additional members of the platform - the CC1310 for Sub-1 GHz operation and the CC2620 for ZigBee RF4CE - will be available later in 2015.



Designed for ultra-low power



The new ultra-low power platform is designed for low power operation, which includes a unique integrated sensor controller that interfaces external sensors autonomously while the rest of the device sleeps. The platform includes radio peak currents below 6.2mA and MCU active current of less than 61uA/MHz. The complete chip can stay in standby at only 1 uA with memory retention and RTC (real time clock) running. This enables the platform to offer half the power of other MCUs according to EEMBC's ULPBench™ with a score of 143.6. Read more about how battery-less operation is achieved in this blog post.



The SimpleLink Bluetooth Smart CC2640 wireless MCU



The CC2640 is designed for a broad range of Bluetooth Smart applications including health, fitness and medical wearables, mobile accessories, beacons, industrial automation and more with:



--  Easy development with comprehensive design support: Complete robust, royalty-free software stack with over-the-air (OTA) update capability, wiki guides, reference designs, low-cost tools and software starting points

--  Lowest power Flash-based Bluetooth 4.1 solution with multi-year operation on smaller coin cells

--  Complete one-chip Bluetooth Smart system in a finger-tip, 4x4 mm size that integrates a Flash-based MCU, Bluetooth Smart radio



To get started, customers can purchase the next-generation Bluetooth Smart SensorTag (CC2650STK) or the CC2650DK development kit and download the latest BLE-Stack. For full information see the CC2640 product page and datasheet.



The SimpleLink 6LoWPAN and ZigBee CC2630 wireless MCU



The CC2630 is designed for 6LoWPAN or ZigBee technologies for applications in LED lighting control, home automation applications such as security systems, appliances, smart plugs and wireless sensor networks with:



--  Ultra-low power operation on a coin cell battery to power a light switch for 10 years and enable battery-operated mesh networks or energy harvesting-based sensor nodes

--  A versatile portfolio of IEEE 802.15.4-based networking solutions provides support for the largest networks connecting 1,000's of nodes in homes, buildings and cities

--  Easy IP and cloud connectivity through 6LoWPAN operation where each device includes an IPv6 address



To get started, customers can purchase the CC2650DK. For ZigBee, developers can download the appropriate Z-Stack™. Additionally, the device is 6LoWPAN capable with the appropriate software. For full information see the CC2630 product page and datasheet.



Additional members of the SimpleLink family will include the Sub-1 GHz CC1310 wireless MCU for operation in 315 MHz, 433 MHz, 470 MHz, 868 MHz, 915 MHz and 920 MHz ISM bands and the ZigBee RF4CE CC2620 wireless MCU for advanced TV, set-top box and home entertainment remote controls.



Pricing and availability

SimpleLink ultra-low power wireless MCU platform-based development kits are available now on the TI Store and through TI authorized distributors. All development kits for 2.4 GHz operation are based on the CC2650 solution and are customized with technology-specific software for Bluetooth Smart, 6LoWPAN, ZigBee or ZigBee RF4CE operation.



--  CC2650DK: $299 for a complete 2.4 GHz hardware, software and RF development platform for Bluetooth Smart, ZigBee and 6LoWPAN

--  CC2650EMK: $99 for two optimized plug-in boards to easily test RF performance with more nodes in a CC2650DK network

--  CC2650STK: $29 for the next-generation Bluetooth Smart SensorTag



The SimpleLink ultra-low power wireless MCU devices will be available in 4x4, 5x5 and 7x7mm QFN packages. The 7x7 mm package is available now as part of TI's sample program, the other devices will follow in the coming month. Pricing for the 7x7 devices are as follows:



--  SimpleLink Bluetooth Smart CC2640 wireless MCU for $3.00 in 1,000 unit volumes

--  SimpleLink 6LoWPAN and ZigBee CC2630 wireless MCU for $5.10 in 1,000 unit volumes



TI's SimpleLink wireless connectivity portfolio

TI's SimpleLink portfolio of low and ultra-low power wireless connectivity solutions - wireless MCUs and wireless network processors (WNPs) for the broad embedded market - makes it easier to develop and connect anything to the Internet of Things (IoT). Spanning over 14 standards and technologies including Bluetooth® Smart, Wi-Fi®, Sub-1 GHz, 6LoWPAN, ZigBee® and more, SimpleLink products help manufacturers easily add wireless connectivity to anything, to any design, for anyone. www.ti.com/simplelink.



About Texas Instruments

Texas Instruments Incorporated (TI) is a global semiconductor design and manufacturing company that develops analog ICs and embedded processors.  By employing the world's brightest minds, TI creates innovations that shape the future of technology.  TI is helping more than 100,000 customers transform the future, today.  Learn more at www.ti.com.



Trademarks

SimpleLink, E2E, Z-Stack and Code Composure Studio are trademarks of Texas Instruments. All other trademarks belong to their respective owners.



CONTACT:

Media

Allie Hopkins

Golin

972-341-2551 

ahopkins@golin.com



Amy Szeto

exas Instruments

214-567-7513

a-drozd@ti.com

More from Software