UL-Certified Seismic Expansion Joint is 2 hr fire-rated.
Press Release Summary: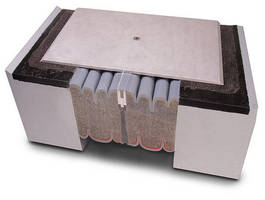 Watertight SJS-FR2 expansion joint offers UL/ULC-certified fire-rated performance that eliminates need for fire blankets and gutters. Installed entirely from deck or floor above, product offers non-invasive non-destructive anchoring, suiting it for retrofit and new construction. System eliminates leaks and handles traffic and point loads at large structural expansion gaps from 4-10 in. It meets requirements of ASTM E1966, ASTM E119, and ASTM E1399.
---
Original Press Release:

2-Hour Fire-Rating Now Available in EMEAL's New SJS-FR2 Seismic Expansion Joint



UL-Certified 2-Hour Fire-Rated Watertight Expansion Joint Targeted for Seismic and Large Expansion Gaps in New and Retrofit Construction

WESTBOROUGH, MASS. - EMSEAL Joint Systems Ltd has just released SJS-FR2, the newest addition to its line of single-system, UL/ULC-certified fire-rated, watertight expansion joints. SJS-FR2 (Seismic Joint Seal Fire-Rated 2-hours) stands out as a unique and significant product for seismic and large width expansion gaps because it is designed and constructed with a built-in 2-hour fire-rating, often required in construction incorporating larger expansion gaps.

Built into the expansion joint, the UL/ULC-certified fire-rated performance eliminates the need for additional fire-blankets, gutters and other products. For the first time a 2-hour fire-rating is now able to be achieved through the installation of this single fire-rated watertight SJS-FR2 unit.

Costs and installation times are significantly reduced because, what has traditionally necessitated two or more separate products and installations, are now accomplished in a single product installation. The method of installation is also easier because SJS-FR2 is installed entirely from the deck or floor above-which eliminates the need for utility lifts or overhead holding labor, as well as obstructions from columns and under-slab HVAC, electrical, plumbing or mechanical materials. Installation is also simplified with non-invasive non-destructive anchoring which makes it ideally suited for retrofit as well as new construction.

SJS-FR2 retains the successful watertight design of SJS-FR1 manufactured to eliminate leaks and handle traffic and point loads at large structural expansion gaps from 4-inches (10mm) to 10-inches (250mm).

The system is comprised of two horizontal fire-rated joints pre-assembled in parallel adjacent to an extruded composite spline. The spline is designed as the receptor for the attachment of trafficable coverplates which bear vehicle, pedestrian and other loads. The durable SJS-FR2 coverplates are installed into the foam-embedded extruded composite spline with self-locating coverplate screws which greatly ease the field installation process. And when the EMSHIELD SJS-FR2 system is installed over a leveling-bed of EMSEAL-supplied elastomeric nosing material it provides the ability to fine-tune the support of coverplate sections reducing rocking and noise caused by unleveled plates.

EMSHIELD SJS-FR2 is UL and ULC certified for nominal joint openings from 4-inches to 10-inches (100mm - 250mm) with up to 100% of total joint size movement (+/- 50%) and meets the requirements of ASTM E1966, ASTM E119 and ASTM E1399. Typical applications are large joints found in parking decks, stadiums, airports, hospitals, schools, or anywhere trafficability AND a 2-hour fire-rating are required.

Both EMSHIELD SJS-FR2 (2-hour fire-rated) and SJS-FR1 (1-hour fire-rated) are shipping and available for installation now. For more information about EMSEAL's innovative and expanding product lines, please contact EMSEAL at techinfo@emseal.com or call 508-836-0280 or visit the EMSEAL corporate website at www.emseal.com.

More from Architectural & Civil Engineering Products