UL-Approved Coils suit high-pressure CO2 systems.
Press Release Summary: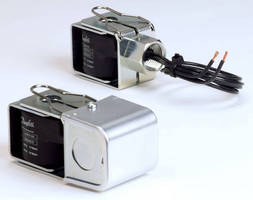 With optimized pulling force, BJ and BX coils are designed for use with AKVH electronic expansion valves to meet demands of high-pressure CO2 systems. Frame and robust encapsulation promote durability and extended lifetime expectancy, while clip-on fastening system with audible latch click minimizes installation time and ensures proper installation. Comprising 6 models, these products are designed in accordance with UL 429 and tested in harsh operating conditions from -40 to +122°F.
---
Original Press Release:

DANFOSS Introduces HIGHER MOPD, UL Approved Coils for Use in High Pressure CO2 Systems



Danfoss adds higher maximum opening pressure differential (MOPD), UL approved BJ and BX coils to its existing product line.  These higher MOPD coils are ideal for use with Danfoss AKVH electronic expansion valves to meet the rigorous demands of high pressure CO2 systems.



As part of a continuous effort to improve the North American CO2 product portfolio, Danfoss introduces six higher MOPD, UL approved BJ and BX coils. These new coils have larger pulling force which enables larger AKVH valves to operate in CO2 systems. Similar to the current BJ and BX coils on the market, these higher MOPD BJ and BX coils feature a redesigned frame and robust encapsulation, for extended lifetime and durability, as well as a clip-on fastening system with an audible latch click to minimize installation time and ensure proper installation of the coil.



The following specifications are based on the requirements of North American food retail systems.



Basic specifications:



Design in accordance with UL 429

Tested in harsh operating conditions from -40 – 122 °F

O-ring between coil and valve removed, for easy installation

Clip on function for secure connection

Redesigned frame, robust encapsulation

Covering standard voltage and frequency; two electrical connection versions



Advantages include:

Faster installation, without the use of tools, with clip-on function

More accurate installation with audible latch click

More reliable operation with durable frame and robust encapsulation

Widely available making logistics easier for the customer

Complete product portfolio of valve and coil combinations for a range of standard and alternative refrigerant needs



View features

View the new features of the UL approved BJ and BX coils here:

https://www.youtube.com/watch?feature=player_embedded&v=OPtGeETmdJA



World-wide CO2 solution provider

As a leading manufacturer of CO2 system controllers and components, Danfoss develops and implements technology quickly to help customers meet changing legislation guidelines drives the advancement of CO2 refrigeration technology worldwide and offers CO2 education training and support.  To date, Danfoss has more than 10 years' experience with CO2, completing more than 4,500 installations worldwide.



About Danfoss

The Danfoss Group operates globally as one of the leaders in the manufacturing of components for the HVAC&R industry, power electronics, and mobile hydraulics. Their key competencies are cooling of food, air conditioning, control of electrical motors and heating in buildings – as well as solutions for renewable energy such as solar power. Danfoss employs 23,500 employees globally and has 110 sales companies around the world. Read more about Danfoss at www.Danfoss.com. Learn about its energy-efficient solutions at: http://www.danfoss.com/SolutionsReady/



For more information

Anders Juul, Segment Strategy Manager, CO2 at Danfoss



Products of interest

BJ & BX coils for solenoid and electronic expansion valves

Valves & Controls from Danfoss



Learn More

Danfoss e-Learning:  Free CO2 Module 3b – Food Retail Refrigeration systems e-Lesson

Learn more about CO2 in Food retail applications, main types of refrigeration systems used for food-retail

Preview CO2 Module 3b e-lesson (YouTube)

Enroll in Danfoss Learning

More from Communication Systems & Equipment