Uhlmann Offers a Choice: Rebuilt Blister Machines Now Available with Allen Bradley or Elau PLC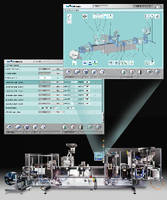 Premium Quality Rebuilt Uhlmann Machines Provide Affordable Solution in Tight Economy

TOWACO, NJ - Uhlmann, the world wide leader in blister packaging technology, knows that in today's uncertain economic climate, companies are doing whatever they can to save money, improve yields and get the most out of existing capital equipment. But continuing to operate a blister line that no longer meets today's high standards for efficiency, safety and quality control, can pose an unnecessary risk.

To address this situation, Uhlmann can rebuild, retool and customize a blister machine to the most exacting OEM specifications, directly from its U.S. headquarters in New Jersey.

And to help provide customers with added flexibility and ease of use, Uhlmann's rebuilt blister machines are now available with the user-friendly Allen Bradley or Elau Progammable Logic Controller (PLC.)

"Unlike non-OEM rebuilt blister machines, authentic Uhlmann rebuilds offer the most current PLC updates and upgrades on the market," says Dirk Corsten, Uhlmann's Managing Director. "But even more importantly, only Uhlmann can offer unrivalled blister expertise, engineering know-how and uncompromising standards of manufacturing precision."

Uhlmann's rebuild and upgrade program provides many benefits, including:

o Outstanding cost savings

o Accurate and reliable production

o Enhanced safety

o Extended machine life

o Long-term spare parts availability

o Regulatory compliance

o No interruption in production

o Validation service

o Documentation for retrofits

o Ease of operation

o Inclusive warranty

With products that include blister machines, cartoning systems, line-monitoring and control systems, and downstream packaging machinery, Uhlmann Packaging Systems, L.P., provides the North American pharmaceutical industry with sales support, service technicians, on-site training, parts inventory, tool manufacturing and rebuilt machinery, and on-site engineering for line integrations.

Uhlmann Packaging Systems, LP is located at 44 Indian Lane East, Towaco, New Jersey 07082. For more information, call 973-402-8855, e-mail info@uhlmann-usa.com or visit our website at www.uhlmannpackaging.com.

Related