UHF RFID Tag provides read range of greater than 8 ft.
Press Release Summary: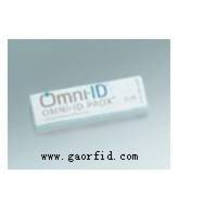 Providing precision for tracking smaller high-value assets such as devices, communication/network cards, and servers, Passive RFID Tag - Prox (GAO115008) is suited for use in supply chain applications as IT asset identification, product tracking during manufacturing, and asset rentals. It provides 99.99% accurate read rates, even on/near metal and liquids. Unit features 240 bit EPC global Class 1 Gen 2 compliant silicon and is supplied with label finish.
---
Original Press Release:

GAO Offers a Passive UHF RFID Tag- Prox



02.20.2009

Toronto, Canada - GAO RFID Inc. (www.GAORFID.com) recommends this Passive UHF RFID Tag - (GAO115008). This Gen 2 tag is useful in such supply chain applications as IT asset identification, product tracking during manufacturing and asset rentals.

GAO's Passive UHF RFID Tag - Prox provides incomparable precision for the tracking of smaller high-value assets such as devices, communication/ network cards and servers. This compact, high-performance tag has 99.99% accurate read rates even on or near metal and liquids. Printing of barcodes and other readable information is available.

GAO's Passive UHF RFID Tag - Prox provides the following feature:

o Robust, balanced performance on, off, or near metals and liquids
o Provides a read range of greater than 8 feet.
o Eliminates traditional RFID tags to deteriorate in performance by its breakthrough technology.
o Fast read speeds and reliable read rates of over 99.99%
o Excellent price-to-performance ratio
o Increased visibility of assets/conveyances
o Improved efficiency for locating or auditing items
o 240bit EPC global Class 1 Gen 2 compliant silicon
o Minimal support requirements
o Supplied with label finish or optional ruggedized case finish

For more information about GAO's Passive UHF RFID Tag - Prox, please visit www.GAORFID.com or contact sale@GAORFID.com

About GAO RFID Inc.

GAO RFID Inc. is a leading provider of Radio Frequency Identification (RFID) hardware and solutions to end users worldwide. GAO RFID combines best of breed with low cost RFID readers, RFID tags and enabling-RFID software. We have a wide variety of RFID readers, tags and antennas in all the RFID technologies, Low Frequency (LF), High Frequency (HF), Ultra High Frequency (UHF, Gen 2) as well as Active and Semi-Passive. GAO RFID's products and services are easily customized for use in Asset Tracking, Health care, Supply Chain & Logistics, Event Management, Access Control, Livestock Tracking, Inventory Control & Management, Field Service, Maintenance and Document Authentication.

For more information please visit www.GAORFID.com

GAO RFID Inc. is a member of GAO Group, which also includes:

GAO RFID Inc.: www.GAORFID.com
GAO Tek Inc.: www.GAOTek.com
GAO Research Inc.: www.GAOResearch.com
WowGao Inc.: www.WowGao.com
GAO RFID Asset Tracking Inc.: www.GAORFIDAssetTracking.com
GAO Embedded Inc.: www.GAOEmbedded.com
GAO Instruments Inc.: www.GAOInstruments.com
GAO Comm Inc.: www.GAOComm.com
GAO Fiber Optics Inc.: www.GAOFiberOptics.com

Company Name: GAO RFID Inc.
Phone: 416-292-0038

Related