UHF RFID Reader suits multi-tag/-antennae applications.
Press Release Summary: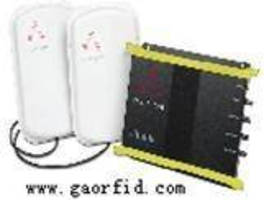 Operating across 902.75-927.25 MHz range, GAO 216004 UHF Gen 2 RFID reader supports remote firmware management and monitoring using SNMP, allowing for real-time status verification and modification. Autonomous mode lets unit activate based on software inputs, external triggers, or timing and also lets users regulate parameters for timing, protocols, antenna usage, and other elements without network latency. Power fail-safes protect data in case of power loss or LAN disconnection.
---
Original Press Release:

GAO Provides UHF Gen 2 RFID Reader



Toronto, Canada - GAO RFID Inc. (www.GAORFID.com) recommends its latest UHF Gen 2 RFID reader (GAO 216004). The UHF RFID reader is a high performance device designed for applications requiring a large number of tags and two or more antennae. It supports remote firmware management and monitoring using SNMP allowing for real time status verification and modification.

This reader is equipped with an autonomous mode that allows it to activate based on software inputs, external triggers or timing and enables users to regulate the parameters for timing, protocols, antenna usage and other elements without network latency making this a highly flexible system with outstanding read rates.
In addition, power fail-safes protect important data in case of power loss or LAN disconnection; the reader can continue to accumulate data of up to 2500 records into non-volatile memory.

Specifications of GAO's 902.75MHz-927.25MHz UHF reader:
o Architecture: XScale processor, Linux, 64 MBytes RAM, 32 MBytes Flash
o Supported RFID Tag Protocols: EPC Gen 2; ISO 18000-6c
o Reader Protocols: Alien Reader Protocol, SNMP, firmware upgradable
o Antennas: 4 ports; multistatic topolgy; circular or linear polmmarization, reverse polarity TNC; requires minimum of 2 antennas or external circulator
o General Purpose Inputs/Outputs: 4 inputs, 8 outputs, optically isolated, 0.5 amp, requires external power source of no more than 24 volts
o LAN Protocols: DHCP, TCP/IP, NTP
o Frequency: 902.75MHz to 927.25MHz
o Channels: 50
o Communications: RS-232(DB-9 F), LAN TCPI/IP (RJ-45)

For more information about this product, please visit GAO's 902.75MHz to 927.25MHz Gen2 RFID Reader, or contact sale@GAORFID.com.

About GAO RFID Inc.

GAO RFID Inc. is a leading provider of Radio Frequency Identification (RFID) hardware and solutions to end users worldwide. GAO RFID combines best of breed with low cost RFID readers, RFID tags and enabling-RFID software. We have a wide variety of RFID readers, tags and antennas in all the RFID technologies, Low Frequency (LF), High Frequency (HF), Ultra High Frequency (UHF, Gen 2) as well as Active and Semi-Passive. GAO RFID's products and services are easily customized for use in Asset Tracking, Health care, Supply Chain & Logistics, Event Management, Access Control, Livestock Tracking, Inventory Control & Management, Field Service, Maintenance and Document Authentication.

For more information please visit www.GAORFID.com

GAO RFID Inc. is a member of GAO Group, which also includes:
GAO RFID Inc.: www.GAORFID.com
GAO Tek Inc.: www.GAOTek.com
GAO Research Inc.: www.GAOResearch.com
WowGao Inc.: www.WowGao.com
GAO RFID Asset Tracking Inc.: www.GAORFIDAssetTracking.com
GAO Embedded Inc.: www.GAOEmbedded.com
GAO Instruments Inc.: www.GAOInstruments.com
GAO Comm Inc.: www.GAOComm.com
GAO Fiber Optics Inc.: www.GAOFiberOptics.com

More from HVAC