UHF RFID Reader has double antenna channel.
Press Release Summary: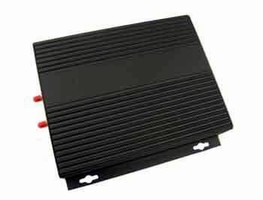 Capable of simultaneously reading multiple passive UHF tags at ranges up to 10 m, model DL6820 is suited for embedded applications, such as item-level inventory. Working frequency range is 902-928 or 920-925 MHz, average read time for single card is less than 10 ms/64 bits, and write distance is 4-7 m. Based on ISO18000-6B or ISO18000-6C Gen2 protocol, reader features FHSS or fixed frequency pulse transmitting working mode, +5 V DC power supply, and 20-30 dBm transmit power.
---
Original Press Release:

UHF RFID Reader DL6820



DAILY RFID( www.rfid-in-china.com ), has announced UHF RFID reader DL6820 with double antenna channel. The UHF RFID reader DL6820 can simultaneously read multiple passive UHF tags at ranges up to 10m, specially for embedded UHF applications such as item-level inventory.

You can visit www.rfid-in-china.com/products_702_1.html for more info about UHF RFID Reader.

Here is the specification about the UHF RFID reader DL6820:

o Protocol: ISO18000-6B or ISO18000-6C Gen2
o Working frequency: 902MHz -928MHz or 920MHz-925MHz
o Working mode: FHSS or fixed frequency pulse transmitting (set by software)
o Read speed: The average read time for single card is less than 10ms per 64 bits
o Reading range: 8m-10m(according to tag and environment)
o Write speed: 8bits less than 30ms
o Write distance: 4m-7m(according to tag and environment)
o Power supply: DC+5V
o Transmit power: 20dBm-30 dBm(set by software)
o Read prompt: Buzzer
o Support Port: RS232 or RS485 or Weigand26/34 or Trigger or Ethernet
o Dimension: 200mmx190mmx80mm
o Weight: 1000g

About DAILY RFID CO.,LIMITED

DAILY RFID CO.,LIMITED , which belongs to PAN Group Co., ltd, is the leading company focusing on the research and development of EPC & RFID technology in China.

DAILY RFID specialize in producing arguably the world's most extensive line of RFID Tag,RFID Label,Smart Card and RFID Reader, which are suitable for any vertical markets, and have obtained the National Integrated Circuit Card Register Certificate, IC Card Manufacture License and ISO9001 Quality Management System Certification. Also, we own a factory covering an area of 26,000 square meters.

DAILY's products are designed and manufactured with recognized industry standards relevant to RFID and its markets but most notably for use in the demanding environments to recognize and understand your business's RFID needs. We are commited to providing "Innovative Technology", " Superior, Cost-efficient Product" and " Professional, Efficient Customer Services".

Company Name: DAILY RFID CO.,LIMITED
Address 1: Rm 1106-1108,Tenglong Building,No,139,Jichang Road, Guangzhou,China
City: Guangzhou
Phone: 86-20-86346357
URL: www.rfid-in-china.com/

Contact Name: jack pan
Organization: DAILY RFID CO.,LIMITED
Title: technical manager
E-mail: daily02@vip.163.com

More from Optics & Photonics