UHF RFID Integrated Circuit reads tags up to 15 m away.
Press Release Summary: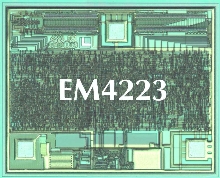 Frequency independent from 865 MHz to 2.5 GHz, EM4223 consists of 128-bit read-only UHF RFID IC that is compliant with international standard ISO18000-6A as well as EPC 64-bit and 96-bit code structure. It offers anticollision protocol, which performs without saturation effect, and can read tags at distances above 15 m when using optimized transponder antenna. Tags can enter and/or leave field without corrupting anticollision protocol.
---
Original Press Release:

EM Microelectronic Has Developed World's First ISO 18000-6A And EPC Code Structure Compliant UHF RFID IC


128-bit EM4223 offers enhanced anticollision protocol performances and reading distance above 15 meters

COLORADO SPRINGS, Colo - March 9, 2004 - EM Microelectronic, a company of the Swatch Group and the world's largest supplier of RFID circuits, announces that it has developed a new UHF RFID integrated circuit, EM4223, which is fully compliant with the international standard ISO18000-6A and EPC 64-bit and 96-bit code structure. The EM4223 is the first RFID IC on the market to be compliant with ISO18000-6A, whose definition has been finalized in 2003 and which will be published in the coming months.

The EM4223 is a high-performance 128-bit read-only UHF circuit with a robust anticollision protocol. It is frequency independent from 865MHz to 2.5GHz and is compliant with worldwide radio regulations. It works with very low radiated power, not only in the USA but also in Europe and in Japan. The EM4223 has been designed using EM advanced CMOS technology optimized for RFID and will be produced in EM's own fab in Switzerland. The circuit layout has been conceived for easy assembly by antenna manufacturers.

An amazing feature of EM4223 is that it can read tags at a distance above 15 meters when using an optimized transponder antenna. It also has an enhanced anticollision protocol which performs without saturation effect. Indeed, with other RFID chips, it may happen that the reader saturates and is not able to read more than a certain number of tags because the transmission channel becomes saturated.

"The saturation limits of the transmission channel of EM4223 are extended to such a point that a reader is able to read over one thousand tags simultaneously present in the field", said Mougahed Darwish, president of the management board of EM Microelectronic. "Due to its high speed anticollision feature, it is also possible to read two hundred EM4223 tags per second. This high throughput will set new performance benchmarks, especially when operating under the prevailing ETSI regulation."

Another advantage of this protocol is that EM4223 tags can enter and/or leave the field without corrupting the anticollision protocol itself, ensuring that all tags are read. This key feature is particularly important in logistics applications where tracked items are always in motion.

The Application Family Identifier (AFI) is a segment of the memory, in addition to the user memory, which defines families of items to be tracked as per ISO18000-6A. AFI allows a direct selection mechanism, enhancing the anticollision throughput and reducing the data flow on the network. With this feature embedded in EM4223, it is possible for a reader to make a reading only on one specified type of item while included as part of a group of different items. For instance, this feature is useful in the case of a pallet containing different types of goods and one wants to read only one type among all of the goods.

The Electronic Product Code (EPC) is a unique ID number that identifies a specific item in the supply chain. The EM4223 complies with the current EPC code specification with the possibility to encode the EPC64 or EPC96. The most popular EPC96 is the GTIN number, but any other can be placed within the 128-bit user data segment of EM4223.

RFID ICs operating in the UHF band can be used in many different applications requiring a long distance reading range, in particular supply chain management (SCM), transport and logistics management, industrial applications, anti-counterfeiting, parcel and baggage tracking, pharmaceuticals, biologistics, toll road collection, as well as sport applications. EM4223 completes and diversifies the family of UHF RFID circuits of EM Microelectronic. While EM4223 is ideal for item-level tracking, recently announced EM4222 is an obvious choice for ultra-low cost applications and EM4422 is ideal for tracing. Due to its wide portfolio, EM RFID products fit optimally in any application.

According to VDC Corp. and ABI Research, two independent market research firms, EM has been found to be the number one supplier of RFID ICs worldwide in 2002 and 2003. With EM4223, EM asserts its position as a technology driver in the RFID world, always at the forefront of critical advancements in contactless identification.

EM has already shipped EM4223 parts to antenna and reader manufacturers for implementation. EM accepts production orders for EM4223 for shipment in the second quarter of 2004. Consult factory for pricing information. More information about the new EM4223 is available at www.emmicroelectronic.com/Products.asp?IdProduct=210 . EM4223 has been developed by EM Microelectronic in cooperation with RFIP Solutions Ltd.

About EM Microelectronic

EM Microelectronic is a semiconductor manufacturer designing and producing ultra low power, low voltage, digital, analog and mixed-signal integrated circuits (ICs) for battery-operated and field-powered devices in consumer, automotive and industrial applications.

RFID chips feature read/write, anti-collision, 125kHz, 13.56MHz, UHF and 2.45GHz operation for applications in security and access control, animal ID, logistics and immobilization in automotive. Other products include microprocessor supervisors and reset ICs, microcontrollers, smart card ICs, mixed analog and digital gate arrays, ASICs, LCD drivers and displays and optoelectronic ICs. EM also produces (LCD) modules and offers bumping services. EM Microelectronic was founded in 1975 with headquarters in Marin (Neuchatel), Switzerland. It is a company of The Swatch Group Ltd., the world's largest manufacturer of finished watches. Additional company and product information is available at www.emmicroelectronic.com.

Photography of the EM4223 is available at http://emmicro-us.com/downloads/em4223/

Product datasheet are available at: http://emmicroelectronic.com/webfiles/product/rfid/ds/EM4223_FS.pdf

Please send business inquiries to:

North America

Marketing Communications Department, EM Microelectronic-US, 5475 Mark Dabling Blvd. Suite 200, Colorado Springs, CO 80918, or info@emmicroelectronic.com

More from Explosives, Armaments, and Weaponry