UHF RFID Ear Tag is used for tracking sheep.
Press Release Summary: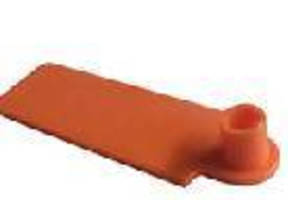 EPC Gen 2 Class 1 UHF RFID Passive Tag GAO116033 is used to monitor animals and help maintain information regarding their feeding, location, vaccination, and health history. Tag offers ability to handle collisions between signals coming from multiple tags, such as when livestock are funneled through gate. Designed particularly for use with sheep, IP67 rated tag is suitable for tracking of any medium-sized livestock.
---
Original Press Release:

UHF EPC Compliant RFID Passive Sheep Ear Tag



Toronto, Canada - GAO RFID Inc. (www.GAORFID.com) now offers passive RFID animal tags operating in the UHF spectrum (GAO116033). Typically, in the past, animal tagging has primarily been done using low frequency transponders; however, these innovative EPC Gen 2 Class 1 tags address some of the shortcomings of using LF. Specifically, UHF tags offer a much higher read range as well as the ability to handle collisions between the signals coming from multiple tags such as which would occur when livestock are funneled through a gate.

This ear tag's shape is designed particularly for use with sheep, but it is suitable for the tracking of any medium-sized livestock. With it, the tagged animal can be monitored and information regarding its feeding, location, vaccination, health history, etc. can be maintained.

GAO's UHF RFID passive sheep tag shows robust performance over the entire UHF bandwidth and operates reliably in dense reader environments while maintaining optimum read range. The tag also offers a unique custom command set, which ensures easy, secure communication between the transponder and RFID readers. And, importantly, this RFID tag has an IP67 rating which guarantees its suitability for use in harsh environments making it an ideal choice for tracking sheep.

For more information about GAO's UHF RFID sheep ear tag, please visit www.GAORFID.com or contact Sales@GAORFID.com

About GAO RFID Inc.

GAO RFID Inc. is a leading provider of Radio Frequency Identification (RFID) hardware and solutions to end users worldwide. GAO RFID combines best of breed with low cost RFID readers, RFID tags and enabling-RFID software. GAO offers a wide variety of RFID readers, tags and antennas in all the RFID technologies, Low Frequency (LF), High Frequency (HF), Ultra High Frequency (UHF, Gen 2) as well as Active and Semi-Passive. GAO RFID's products and services are easily customized for use in asset tracking, healthcare, supply chain & logistics, event management, access control, livestock tracking, inventory control & management, field service maintenance and document authentication.

For more information please visit www.GAORFID.com

GAO RFID Inc. is a member of GAO Group, which also includes

o GAO Tek Inc. - www.GAOTek.com
o GAO Research Inc. - www.GAOResearch.com
o GAO RFID Asset Tracking - www.GAORFIDAssetTracking.com
o GAO Embedded - www.GAOEmbedded.com
o GAO Instruments - www.GAOInstruments.com
o GAO Comm - www.GAOComm.com
o GAO Fiber Optics - www.GAOFiberOptics.com

Company Name: GAO RFID Inc.
Address 1: 601 Milner Avenue, Third Floor
City: Toronto
Zip: M1B 2K4
Country: Canada
Phone: 416-292-0038
URL: www.GAORFID.com

More from Packaging Products & Equipment