UHF Repeater helps eliminate radio dead spots.
Press Release Summary: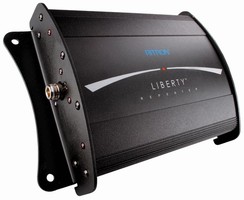 Designed to compensate for lack of UHF radio coverage, 5 W Liberty Repeater model RLR-456 is offered in wide band and narrow band versions with operating frequency range of 450-470 MHz. Its all-metal, powder coated aluminum housing, which measures 11.5 x 8.0 x 2.75 in., protects against ingress of dirt and dust. Also available as 2 W model RLR-460, both units include built-in duplexer and power supply. Repeaters are rated at 100% continuous duty cycle.
---
Original Press Release:

World's Smallest 5 Watt UHF Repeater



5 Watt Repeater Solves Tough Problems

Carmel, Indiana - Designing an RF communication system that will provide "100% blanket coverage" is difficult. Add customer budget constraints and it gets even more difficult. Regardless of exhaustive system design, "dead spots" often appear. To make things easier and more economical, Ritron offers RF repeaters that extend coverage.

UHF radio users do not need to purchase more powerful (and thus more expensive) portable radios, or install pricey, high-power "over-kill" repeaters to correct a lack of coverage. Ritron's Liberty Repeater provides a simple and cost-effective solution.

The new, high power 5 Watt UHF Liberty Repeater, model RLR-456 is now available. The Liberty repeater is also available in a 2 Watt model, the RLR-460. Wide band and narrow band versions are available. The operating frequency range is 450-470MHz.

It's rugged, all-metal, powder coated aluminum housing provides protection from dirt and dust intrusion and has built-in mounting flanges for easy installation. Small and compact in size the Liberty repeater measures only 11.5" x 8.0" x 2.75" and weights just 4.5 lbs.

The 2 Watt Liberty repeater has an MSRP of just $915, the 5 Watt version is $1,065.

Both units include the built-in duplexer and power supply.

The Liberty repeater is rated at 100% Continuous duty cycle (RLR-460@2W, RLR-456@5W). The rated transmit output power is measured at the antenna connector.

The Liberty repeater is ideal for applications involving schools, hotels, airports, golf courses, retail stores, hospitals/nursing homes, amusement parks, factories, warehouse facilities, and special events.

The Liberty Repeater is designed and manufactured in Carmel, Indiana USA.

Call today at 800-USA-1-USA, Fax: 317-846-4978, Email: sales_info@ritron.com or write P.O. BOX 1998, Carmel, IN 46082, Attn: Liberty.

The Ritron Liberty Repeater is part of a complete line of wireless products and systems for businesses. Ritron manufactures Land Mobile Radio (LMR) products and accessories for worldwide distribution.

All Ritron Repeater products are designed, manufactured and serviced in the U.S.A.

More from Agricultural & Farming Products