UHF Paddle Reader has Bluetooth connectivity.
Press Release Summary: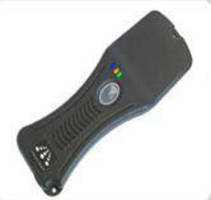 UHF Bluetooth paddle reader, GAO 246004 is suited for tracking and monitoring mobile assets, inventory management, and mobile field service applications. Unit features read/write functionality for compatible tags and configurable user interface for variety of operational modes such as push to read, burst, or always on. Reader is available with ActiveX controls for Microsoft Windows application programmers undertaking software integration.
---
Original Press Release:

GAO Launches 902MHz RFID UHF Paddle Reader w/Bluetooth



11/20/2008

Toronto, Canada - GAO RFID Inc. (www.GAORFID.COM) offers its new UHF Bluetooth Paddle Reader (GAO 246004). GAO's Paddle RFID Reader is an ideal device for tracking and monitoring mobile assets, inventory management and mobile field service applications such as security monitoring and service level adherence. It provides a smart combination of interfaces for enterprises IT managers wanting to integrate RFID into their systems.

In addition, the lightweight and ergonomic UHF Paddle Reader has a long battery life which allows a full 12-hour operation. Bluetooth connectivity makes it a perfect retrofit option for businesses that want to add value to their investment in handheld technology.

GAO's UHF Bluetooth Paddle Reader provides the following features:

o Designed for handheld, ergonomic styling ergonomic styling
o Available with ActiveX controls for Microsoft Windows application programmers undertaking software integration
o Full Read/Write Functionality for compatible tags
o Highly configurable user interface allows a variety of operational modes such as push to read, 'burst' or 'always on'
o Easy configuration of audio tones, status LEDs, operational modes via Tracient's PC based configuration tool

For more information about this UHF Bluetooth Paddle Reader, please visit at (www.GAORFID.com)

About GAO RFID Inc.
GAO RFID Inc. is a leading provider of Radio Frequency Identification (RFID) hardware and solutions to end users worldwide. GAO RFID combines best of breed with low cost RFID readers, RFID tags and enabling-RFID software. We have a wide variety of RFID readers, tags and antennas in all the RFID technologies, Low Frequency (LF), High Frequency (HF), Ultra High Frequency (UHF, Gen 2) as well as Active and Semi-Passive. GAO RFID's products and services are easily customized for use in Asset Tracking, Health care, Supply Chain & Logistics, Event Management, Access Control, Livestock Tracking, Inventory Control & Management, Field Service, Maintenance and Document Authentication.

GAO RFID Inc. is a member of GAO Group, which also includes:

GAO RFID Inc.: www.GAORFID.com
GAO Tek Inc.: www.GAOTek.com
GAO Research Inc.: www.GAOResearch.com
WowGao Inc.: www.WowGao.com
GAO RFID Asset Tracking Inc.: www.GAORFIDAssetTracking.com
GAO Embedded Inc.: www.GAOEmbedded.com
GAO Instruments Inc.: www.GAOInstruments.com
GAO Comm Inc.: www.GAOComm.com
GAO Fiber Optics Inc.: www.GAOFiberOptics.com

Company Name: GAO RFID Inc.
Address 1: 601 Milner Avenue,3rd Floor
City: Toronto
Zip: M1B 2K4
Phone: 416-292-0038
URL: www.GAORFID.com

More from Electrical Equipment & Systems