UHF Narrowband Transceiver supports data rates up to 10 kbps.
Press Release Summary: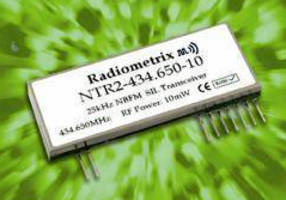 Optimized for industrial environments, NTR2 module delivers RF power output of 10 dBm and receiver sensitivity of -118 dBm, with usable range extending beyond 500 m. It conforms to ETSI EN 300 220-3 and EN 301 489-3 standards and has operating temperature range of -10 to + 60°C. Available in 434.075, 434.650, and 458.700 MHz versions, and in customized options across 433 MHz (EU) and 458 MHz (UK) license-exempt bands, module consumes only 20 mA for transmitting and 15 mA for receiving.
---
Original Press Release:

UHF Narrowband Transceiver Module is Optimised for Noisy Industrial Environments



Power efficient radio solutions developer Radiometrix has introduced a new UHF narrowband transceiver specifically suited to power-constrained applications where existing single frequency wideband UHF modules cannot deliver the range required. Supporting data rates of up to 10 kbps, the NTR2 module provides a low power, highly reliable wireless data link, even in the most uncompromising of industrial settings. With an RF power output of 10 dBm and a receiver sensitivity of -118 dBm, its usable range can extend beyond 500 m.

Available in 434.075MHz, 434.650MHz and 458.700MHz versions, as well as customised options offered right across the 433MHz (EU) and 458MHz (UK) licence-exempt bands, these transceiver products combine effective screening with internal filtering to minimise spurious radiation and susceptibility. They conform to both ETSI EN 300 220-3 and EN 301 489-3 standards. In addition, they have an operating temperature range of -10 °C to + 60 °C.

Among the broad spectrum of applications that will benefit from the incorporation of these radio modules are EPOS equipment, barcode scanners, data logging systems, industrial/commercial telemetry equipment, in-building environmental monitors, high-end security/fire alarms, DGPS systems, and vehicle data up/download systems. Thanks to their compact dimensions (57 mm x 24 mm x 8 mm) and low levels of power consumption (drawing only 20 mA for transmitting and 15 mA for receiving), they will prove particularly appropriate for use in battery-powered system designs.

www.radiometrix.com/content/ntr2

About Radiometrix

Founded in 1985, London-based Radiometrix has become a leading global developer of low power VHF and UHF radio modules for licence-exempt and licensed frequency bands. It highly experienced engineering team produce products for a wide variety of applications, with both customized and off-the-shelf solutions available through its global sales and distribution network.

For sales enquiries contact sales@radiometrix.com

More from Services